In today's competitive digital landscape, a robust B2B marketing strategy is crucial for any business hoping to stand out. More than any time in history, businesses are realising the power of data-driven insights to drive their marketing efforts. Performance marketing is an invaluable approach that allows businesses to align marketing initiatives with measurable outcomes, making it a favourite amongst the most successful B2B entities.
Choosing the right B2B performance marketing agency to partner with is a critical decision that can significantly influence your success. These agencies' role extends beyond creating marketing strategies; they also offer in-depth analysis, provide insightful feedback and help to refine your marketing efforts, all aimed at achieving the best ROI.
We've compiled a list of the top 10 B2B performance marketing agencies to consider for 2023. Each of these agencies brings a unique blend of expertise, resources, and marketing innovation to the table.
1. Gripped
Gripped is a London-based agency that combines data-driven techniques with creative marketing solutions to help tech and SaaS businesses achieve their growth targets. They offer world-class performance-based marketing services, such as SEO, content marketing, and conversion optimisation. With a promise of measurable KPIs and an ROI-driven approach, Gripped ensures exceptional marketing performance metrics for B2B businesses. If you're an ambitious business looking for targeted, effective, and quantifiable marketing solutions, Gripped should be your go-to agency. Get a free marketing audit today and see how you stack up against your three closest competitors.
2. The Marketing Practice
The Marketing Practice is an international B2B performance marketing agency that offers comprehensive services to drive customer engagement and sales. They design and implement performance-based marketing strategies by integrating services such as account-based marketing, customer advocacy, telemarketing, and digital marketing. Their data-driven approach, coupled with creative marketing solutions, makes them an ideal partner for businesses looking to achieve substantial growth.
3. Ironpaper
Ironpaper is a B2B growth agency specialising in lead generation and marketing for tech companies. Their performance-based marketing services and conversion optimisation tactics ensure that every penny spent on marketing is accountable and helps businesses achieve measurable growth. If you are a tech company looking for marketing solutions that deliver results, then Ironpaper is a solid choice.
4. KERN Agency
The KERN Agency is a prominent player in the performance marketing space. They offer B2B marketing solutions, data analytics, and targeted content creation. KERN Agency has a commendable track record in industries including tech, manufacturing, and service-providers. They synergise traditional and digital methods into a comprehensive strategy that's perfect for businesses at various growth stages.
5. Directive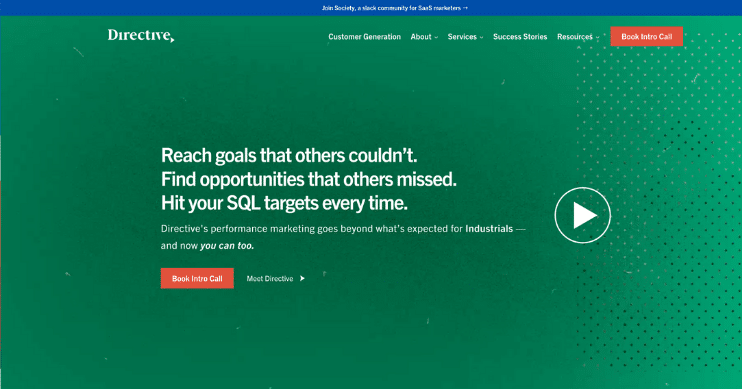 Directive is a search marketing agency for enterprise and B2B with a strong focus on performance marketing services and marketing performance analytics. Catering primarily to software companies and SaaS businesses, Directive combines their deep understanding of the industry with advanced SEO and PPC strategies to drive high-value leads.
6. Ogilvy
Ogilvy is a global marketing and advertising agency with a noted expertise in building brands. Their capabilities in B2B social media marketing performance and content marketing performance are well-recognised in the industry. They offer customised B2B marketing solutions that effectively align with your brand's objectives and audience preferences.
7. Square 2
Square 2 is renowned for their data-driven strategies and passion for results. Their areas of expertise include conversion optimisation, performance tracking, and B2B marketing campaign performance. They are particularly well-suited for tech and health-related industries.
8. Shift Paradigm
Shift Paradigm is a performance marketing agency that combines marketing consultancy with actual execution. Their proficiency in lead generation and performance marketing techniques for B2B businesses make them an ideal choice for those looking to enhance their customer acquisition strategies.
9. Accenture
Accenture has an award-winning B2B marketing service. They offer a range of services from strategic planning to performance analytics. With their profound understanding of B2B marketing dynamics, they can provide your business with integrated marketing solutions designed to generate results.
10. Quarry
Quarry is a revenue-focused marketing agency known for their commitment to driving business outcomes. Their unique approach to B2B marketing strategies and their ability to craft compelling customer experiences make them a worthy contender for businesses looking to boost their sales performance.
In Summary
The right B2B performance marketing agency will not only devise and implement data-driven marketing strategies but also align them with your specific business goals, leading to improved performance and ROI. Each agency listed in this article brings unique specialisations to the table, and choosing the right one involves a strategic evaluation of your business needs, marketing objectives, and budget, as well as the suitability of that agency in terms of chemistry with your team.
As the marketing landscape evolves with new trends and technologies in 2023, the top B2B performance marketing agencies will stay ahead of these changes, empowering your business to remain competitive. Remember, the success of your marketing efforts isn't solely dependent on your chosen agency, but also on your active participation and collaboration. With these top picks for 2023, you're well-equipped to make an informed choice and forge a fruitful partnership that supports your business growth.
More 'Best Of' Agency Lists You Might Be Interested In
B2B Performance Marketing Agency FAQs
What do B2B performance marketing agencies do?
B2B performance marketing agencies offer a strategic blend of digital services designed to optimise a business's marketing strategies. They utilise key performance indicators (KPIs) and other essential metrics to gain a deep understanding of a business's performance. This insight allows them to significantly improve campaign effectiveness, channel optimisation, and audience targeting, ensuring that your marketing efforts deliver tangible results.
How can a performance marketing agency benefit my business?
Performance marketing agencies bring a host of benefits to your business. They leverage data-driven insights and industry expertise to refine and enhance your marketing initiatives. These enhancements through channel and service expertise aim to maximise return on investment (ROI). Additionally, working with a performance marketing agency can lend a fresh perspective to your strategies and help you capitalise on new marketing opportunities.
How can I choose the best B2B performance marketing agency for my business?
Choosing the best B2B performance marketing agency for your business involves a thorough evaluation of several critical factors. These include the agency's field expertise, previous work with clients in your industry, their approach to performance marketing and whether there is a natural chemistry between your teams. Furthermore, it's essential to discuss your business goals with potential agencies to ensure their services align with your specific needs. Transparent communication and shared business values is a solid foundation for a successful partnership.
What services do B2B performance marketing agencies offer?
B2B performance marketing agencies typically offer a wide array of services to cater to various business needs. These encompass SEO, content marketing, paid advertising, data analytics, and social media marketing. Many also provide conversion optimisation services, helping businesses transform their website visitors into customers. All these services are essential in crafting a holistic marketing strategy that drives revenue growth.