Are you looking for the best marketing agencies in the United Kingdom? Well, look no further! This article features the top 50 marketing agencies across the UK.
Did you know that there are more than 25,000 marketing agencies in the United Kingdom? They range from smaller, niche marketing agencies to large, full service marketing agencies. With so much choice, it can be difficult to narrow down your serve and find the marketing agency with the right product or service for you.
The UK has some of the best marketing and content strategy agencies in Europe — if not the world. The range of services offered by B2B marketing agencies include advertising, digital marketing, content strategy, website design and development, paid social, brand, social media, SEO, video production and much more.
This article highlights the UK's top 50 marketing agencies, summarising some of the UK's most effective and successful marketing agencies. Whether you're a big or small business, just starting out or with years of experience, we're here to help you select the right agency.
If you have questions, or comments or feel you know a company that deserves to be on our marketing agencies list, let us know in the comments below.
If you're looking for more information on B2B marketing agencies – start here.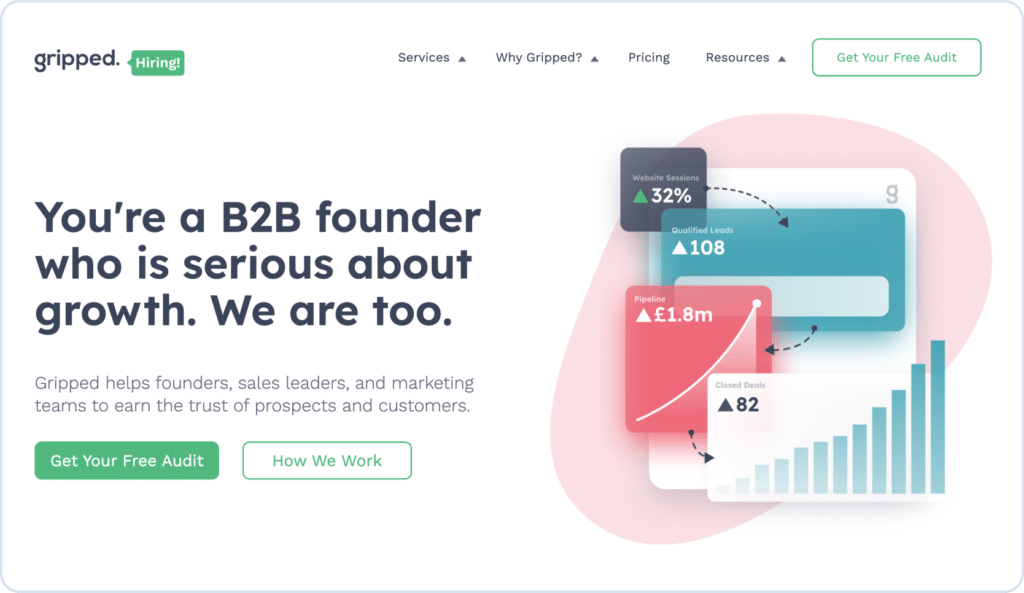 Let's kick off the list with Gripped. Gripped is a B2B marketing agency, based in London that helps customers drive traffic, increase lead conversion, grow pipeline and close sales. Gripped was founded by Ben Crouch and Steve Eveleigh to support the growth ambitions of tech and IT service providers by redefining both growth marketing agencies and SaaS marketing agencies.
They've built their agency based on 17 years' experience working in-house creating a digital sales and marketing methodology designed to help businesses win more customers.
Gripped has expertise across a wide range of digital channels and tactics, including search engine optimisation, marketing automation, paid media and conversion rate optimisation.
You can access a free Growth Audit from Gripped where a product-led growth expert will provide a free assessment of your existing digital sales and marketing presence and performance.
The Social Shepherd is Social Media Marketing Agency focused on delivering ROI through Paid Media, Search Engine Optimization, Social Media Platforms and Digital Marketing Services. The Social Shepherd is a Full-Service Digital Marketing Agency that works with the likes of Easyjet holidays, Godiva, Premier Inn and other well-known consumer brands to deliver successful marketing campaigns. The Social Shepherd was founded in 2018 and is based in Bath.
Site Visibility is a marketing agency based in London that has worked with recognisable brands like UK Power Networks, Nivea, and Hilton. They provide a full range of services, including content marketing, analytics, social media marketing strategy, online PR, display advertising, PPC, and SEO. The company has been in operation for roughly 18 years now, and they actually run one of the most popular marketing podcasts on iTunes; the Internet Marketing Podcast. They have produced more than 300 episodes with legends in the marketing game, including Tim Ferriss and Seth Godin. If that wasn't enough, they have also founded BrightonSEO, which is the largest SEO conference in Europe.
Modern
Modern is one of the top UK B2B digital marketing services companies. They help brands grow, explore new territories, launch new services and products, and deepen customer relationships. They implement marketing-as-a-Service effectively.
Driven by data analysis and business insights, the Bristol-based company helps its customers succeed. They work closely with clients to deliver high-quality digital campaigns. Their expertise lies in delivering online media solutions, including strategy development, search engine optimization, blog posts, content creation, email marketing, digital marketing campaign implementation and measurement.
They have worked with Hyland, Gamma and FreedomPay.
Found
Found is a London digital agency that mixes data analytics and human creativity. Found creates PPC and SEO campaigns for B2B companies and consumer brands. Found uses smart data and analytical tools to craft optimal plans to improve client ROI. Found works with some of the largest brands in the world. Their work has earned them awards such as 'Best Agency' by Marketing Magazine. Found has also won Best Digital Agency at the UK Search Awards. They work with businesses around the world. They are located in London. Found uses data to craft effective PPC and SEO campaigns for B2B and C2C companies.
Their services include Search Engine Marketing, Google Analytics expertise, Search Engine Optimization (SEO), Pay Per Click Advertising (PPC & Google Ads), and Content Marketing.
Found deliver digital marketing campaigns for brands such as Fender, Randstad Technologies, Marley, AllClear Travel Insurance and more.
Momentum
Rather than working in terms of separating strategies like PPC and SEO, Momentum focuses on finding the best combination of these interlocked marketing channels for each client they work with so that businesses can achieve their goals faster. As a user-focused digital agency, Momentum provides comprehensive services across design, development, research, and strategy. They have a comprehensive collection of their work on their website, which is certainly worth checking out. Rather than being wowed with brand names, you will get an insight into the problems their clients were experiencing and how they went about the task at hand. This gives you great insight into the way they work. The online marketing company has an office in London, as well as offices in America and Mexico.
Limelight Digital
Limelight Digital specialises in digital marketing solutions and services for startups looking to build a profile and online presence. They combine traditional marketing techniques with SEO, PPC (Google Ads), and social media campaign tactics and channels. Their client list includes student crowdsourcing online business StudentCrowd, car money app, international timber, Zeus app, and more.
Directive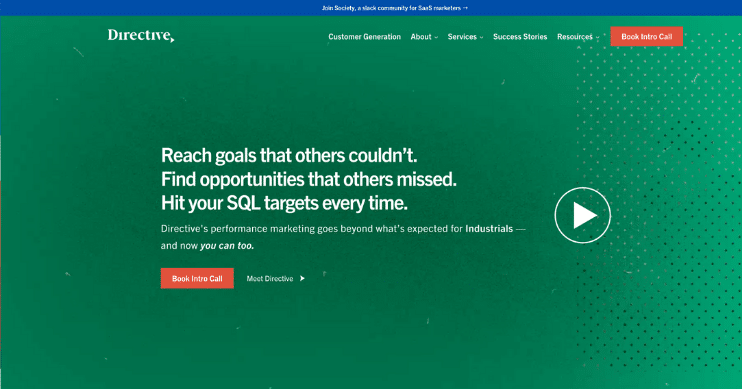 Directive combines CRO, social media advertising, content marketing, PPC, and SEO services to help major brands increase their audiences so that their customer base can grow and grow. They have worked with some recognisable brands, including WestRock, Cherwell, Allstate, Samsung, and Cisco. Their statistics are compelling, claiming a 12 per cent decrease in bounce rate, 135 per cent more organic traffic, 84 per cent more inbound leads, and 32 per cent lower cost per acquisition based on their average client. They also offer a free SEO audit and can provide potential clients with a custom proposal. As well as having an office in London, they also have several offices across the U.S.
Finally, we're moving outside of London, and heading to Bristol. Gravitywell is a company that aims to provide clients with a full digital package. This means that they offer just about everything a modern brand could need, including websites, eCommerce platforms, messenger bots, react native apps, mobile apps, and can even act as your video production company. They won't try to make you start again; they're focused on helping clients to transform digitally without pressing the restart button. They integrate their approach with your current processes and systems to minimise disruption and risk. The company was founded by Simon Bos 18 years, who now serves as Gravitywell's Creative director.
Blueglass
Blueglass have worked with a number of high-profile international brands, including Fielmann, Just Eat, Swisscom, UPC, and Huawei. This creative agency has also won a number of high profile awards too, including the EU Search Award in 2015, 2017, and 2018. The agency specialises in WordPress development, paid advertising, content marketing, and SEO. Their paid distribution contains a mixture of re-targeting opportunities, content distribution, social advertising, and paid search. They utilise data as a backbone for their creativity.
Don't Be Shy
Don't Be Shy promises you won't experience the scatter-gun tactics that a lot of marketing agencies employ today. This B2B marketing agency uses intelligence, insight, and imagination to deliver the full range of marketing services. This includes insight and strategy, UX and UI websites, marketing automation, HubSpot, content and campaigns, brand and creative services, and everything in between. Although based in Manchester, the company is willing to travel anywhere to meet up with clients – even if there is a passport involved! Don't Be Shy has also won a number of awards, including Agency of the Year at the 2018 Pacific North Awards.
Croud
Next, we have Croud, which is another international marketing agency that has established itself in London. It also has offices in Surry Hills, Australia, and New York. Croud consists of an in-house team as well as a big network of freelancers. Everyone works together to provide the type of content that engages audiences, PPC, SEO and paid social services for businesses across the globe. At present, there are 2,300 experts working for Croud, as well as 172 in-house staff members. The company was founded in 2011 and now boasts a status as one of the biggest independent digital agencies. Their approach to marketing is a long-term, promising transparent and granular analysis and reporting.
Barracuda
Barracuda was established in London in 2000. The company was actually the first agency in the UK to be officially accredited by Google, and it boasts a status as one of the oldest established independent marketing agencies in the capital city. It is a digital agency that offers both owned, earned, and paid services. On the paid front, which is the media you buy, they offer YouTube advertising, Google Shopping, social media advertising, social media campaigns, display and remarketing, and PPC. On the earned side of things, which is the media you influence, they provide outreach, digital PR, digital advertising, local SEO, and SEO. Then, you have the media you own, i.e. what you control, which includes services spanning video production, content strategy, web development, YouTube channel management, Google Street View trusted, and conversion rate optimisation to top it off.
---
Book Your Growth Audit
Talk to one of our growth experts, and we'll give you free advice on how to generate, nurture and convert more leads. Click below to discover the secret to profitable growth.
---
Next, we have Epic New Media, which is a specialist PPC and SEO agency, which has offices in both Liverpool and Manchester. Aside from being a paid and organic search marketing agency, the company also provides CRO, landing page design, paid social, and analytics services. They outline their service as being a four-step process. This begins with targeting, which involves determining objectives, keywords, target market, personas, and customer profiles. The second stage is traffic, which is where landing pages, retargeting, social media channels, SEO, and PPC come in. The third stage is tracking their online presence, which involves conversion principles, search queries, key messaging, and lead nurturing. The fourth stage is the measuring stage, which involves measuring results, multi-touch, analytics, segmentation, and CRM integration.
Ayima
Ayima is an all-in-one agency, providing services including a vast assortment of eCommerce services for brands across all industries, as well as programmatic advertising, CRO, performance analytics, social media presence, content marketing, social media management, paid social, PPC, and SEO. They use a combination of digital strategies to help their clients build larger consumer bases. Clients include the likes of Verizon, M&S, and Bwin. What is so interesting about Ayima is that it actually began life in 2002 as a Search Engine. The indexing and crawling technology that the company's founders built is still one of the core tools utilised and offered to clients today. In 2007, the brand was relaunched as a specialist search consultancy. It has offices across the world; not only in London, but Hong Kong, Stockholm, Raleigh, Vancouver, San Francisco, and New York.

Brainlabs
Another marketing agency that is based in London but has a presence in the United States, Brainlabs Digital offers services including consultancy, video marketing, conversion rate optimisation, content marketing, and organic search. They also provide a scientific approach to SEO through A/B testing so that businesses can see exactly what SEO changes their website requires in order for their search traffic to experience an uplift. They have also created an Optimisation Delivery Network (ODN), which gives clients the ability to run SEO split tests and see changes to their website. You can arrange a demo if you would like to try before you buy so to speak.
Barques has a status as one of the leading web design and social media agencies in the United Kingdom. The company is very SEO-orientated. They have a team of search engine specialists who design and optimise websites so that they deliver the best possible results in terms of search engine performance. The company is based in Birmingham and some of their existing customers as well as clients they have worked with include the University of Birmingham, Apsley House Capital, Veridon, Stoford, Visican, and Birmingham Botanical Gardens.
Koozai
If you are looking for one of the more well-known and trusted digital agencies out there, Koozai certainly ticks that box. They were founded back in 2006 by Ben Norman, and they have gone from strength to strength, with offices in London, Southampton, and Preston. The company has won a number of awards and boasts clients like TUI Travel Plc, Papa Johns, V&A, and TravelBag. Their services are broken down into paid media (paid search and social), earned media (digital PR), social media management and owned media (content marketing and SEO).
Epiphany
Another award-winning agency; Epiphany is an SEO company that does not concern itself with merely making sure your brand is being seen but ensuring it is being seen by the right audiences. The company combines services like web design and development, content marketing, display advertising, PPC, and SEO. Their clients include Ladbrokes, SCS, Pandora, Pretty Little Things, and The Carphone Warehouse, so they certainly have the capability to work with leading industry players. They currently have offices in Leeds and London, as well as plenty of experience to boot, having been established in 2005. In 2014, they joined a consulting business consisting of 650 people across the world known as Jaywing. Around 65 of those people are experienced data scientists, which has allowed Epiphany to build incredible strategies based on the very best insights and analysis.
Claiming that they are on a mission to make B2B more human, Upp B2B focuses on helping brands to tell their stories. They conduct meaningful research so that they can create distinctive B2B brand propositions for your product or service and craft fresh ideas that will make a business-changing impact by connecting effectively with people across offline and digital channels. Their worth spans brand creation, brand building, and brand growth. The company is based in Salford. Although it only 'opened' in 2016, it was created when two specialist agencies, Clock Creative and Marketecture (an internet marketing agency), merged together, bringing plenty of experience to the table.
Adam & Eve DDB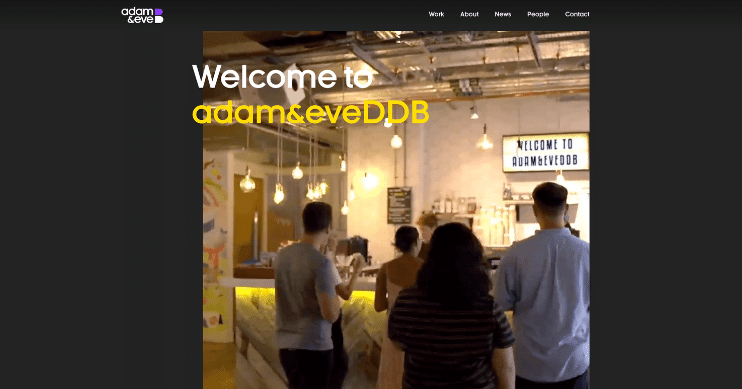 Based in London, Adam & Eve DDB has an open way of working when it comes to digital marketing experts. They are included on a number of lists for award-winning digital marketing agencies and their collaborative culture involves sitting everyone together to create a collection of skills and service types that are beneficial to the client. They are focused on solving business challenges unlocking why people love your brand and then creating inspirational campaigns around this. They've worked with a number of marketing departments of notable brands over the years, from John Lewis to Google. However, one of their most effective campaigns across social media channels was the 'Good Call' adverts for Fosters. If you've not seen them, it's definitely worth a quick search on YouTube or social channels.
Addmustard
Next, we have addmustard, which is a performance marketing agency and digital marketing company for entrepreneurs specifically. The company provides services like performance optimisation, branding, UX web and app design services, social media marketing, social media posts, paid media, and SEO – a great combination for increased web traffic and ranking highly in Google searches. Some of the work they have done includes website and brand building for Reflex Nutrition, recovering organic traffic and visibility loss for Neilson, and putting together an impressive creative campaign for Marsh & Parsons. More of their projects, as well as detailed information about them, can be viewed via the agency's website.
Based in London, Traffic is another digital marketing company that is proud to have a number of awards to its name. The company utilises the latest technology to create great businesses and brands. They have expertise across a very broad scope of sectors, including working with automotive businesses, as well as those in construction and the healthcare sector. Some of the more famous clients they have worked with include British Airways, Wall's, Carat, Panasonic, The Bakey, Alexandra Palace, and Deloitte. Quite an impressive client list to say the least. With over 13 years of experience, Traffic helps businesses nail their niche and scale products to their full potential.
Edit
Edit is a digital marketing agency that has undergone a bit of rebranding itself. It used to be known as Branded 3, however, the company went under a rebrand mission, and the fact that it is still one of the most respected digital agencies in the United Kingdom shows just how effective the creative team here are. Edit specialises in marketing that is very much data-driven, including customer relationship management and media branding for enterprise brands. They have worked with some of the most well-known companies in the UK, including Ladbrokes, Confused.com, and Jaguar Land Rover. They have three offices in the UK at the moment; in London, Leeds, and Bath. They also host the largest search marketing agency event in the north of England; SearchLeeds. The event is free to attend and features a large number of talks covering everything from digital trends to technical SEO and how to increase organic traffic through social platforms.
Glass Digital
Glass Digital pride itself on being transparent. They believe that a lot of companies out there today are providing marketing services to their customers without their clients really knowing what they are spending their money on. This is something you will never get with Glass Digital. Their emphasis is on making sure that all of their customers understand how their marketing strategies work and how they are generating that all-important return on investment. Based in Newcastle, Glass Digital provides a flexible range of affiliate marketing, paid search, and organic search services for small-to-medium businesses. Some of their clients include Alliance Online, Charles Clinkard, Powerhouse Fitness, and Wyevale Garden Centres. They have been featured in numerous publications too, including Search Engine Journal, Search Engine Land, The Telegraph, and The Times.
The article continues below.
---
Dreaming of a marketing agency that's actually transparent?
They do exist and dreams can come true! We want to change the perception of marketing agencies, so here's a free growth audit on us. We'll assess your marketing and sales strategy and offer practical advice for achieving profitable growth and it'll cost you zilch.
---
As the name suggests, this digital marketing agency is all about making a big impression and helping brands to benefit from maximum exposure. They want to generate as many leads as possible for their clients, and then maximise conversions by utilising an array of optimisation services and quality testing. Based in Nottingham, the services they provide span web design, online advertising, social media campaigns, conversion rate optimisation (CRO), content marketing, digital PR, PPC, and SEO. They have also won a number of awards in their time too. This includes winning the Best Small PPC Agency Award at the 2017 European Search Awards and the Best Large SEO Agency Award at the 2018 European Search Awards. They also won the 2018 Best Large SEO Agency Award at the UK Search Awards, as well as winning the Best In Search Award at the 2018 RAR Digital Awards. So, if you are looking for a digital marketing agency that is currently at the top of its game, it is hard to argue with Impression.
BowlerHat
BowlerHat is all about making digital marketing simple, which will be music to a lot of people's ears. They provide a straightforward set of services; design, content marketing, PPC, and SEO. The agency, which is located in Birmingham, specialises in working with businesses of the smaller size so that they can scale up and reach bigger targets. If you're a small business owner and you want to make a big impact, but you don't know how to go about it, Bowler Hat is the sort of marketing agency that can assist with this. The team consists of Marcus Miller, a Digital Strategist with 20 years of experience, Ryan Scollon – PPC & SEO Consultant, Zoe Miller – Social Media Specialist, Robyn Strafford – UX & Web Designer, Andrew Hall – Web Developer, Bethany Griffins – Content Marketing Specialist, Amrita Aujla – SEO Executive, and Ben Griffin – PPC Consultant.
Absolute
Absolute describes itself as campaign ignitors, digital innovators, and brand builders; a bold agency for ambitious clients. The company has built brands and digital campaigns for the likes of Incorez, Royal Birkdale, and Manchester City FC. the company uses website and app design and development combined with a mix of digital media and influencer marketing, from photography to video and content. The main focus for Absolute is user experience; this is emphasised in everything they do. The company is located in Bolton, and they have also won a number of awards over the years too. This includes winning the Travoluton Agency of the Year and Awwwards' Site of the Day back in 2012. More recently, in 2018, they were awarded the Awwwards' Mobile Excellence Award for their 'The Keele difference' campaign for Keele University.
Next, we have MOBO Media, which is a marketing and design agency in Cardiff that offers a wide range of digital marketing solutions. Not only does this include website design and development but it also includes logo design, graphic design, branding, influencer marketing, social media marketing, and SEO. Some of their clients include Highgear Insurance, UShop, Pepperpot, and Slice.
Abbott Mead Vickers (AMV BBDO)
All you need to do is look at this company's client wall, and it will be enough to convince you that they are worth their salt. It reads like a brand's hall of fame. AMV BBDO has been responsible for some of the most memorable adverts, including Revel's 'against the coffee' campaign, and adverts for Walkers Crisps, Birdseye, BT, and Guinness. The company has a history spanning over 21 years, and they are currently ranked number two across the globe for strategy and effectiveness by WARC. It is certainly worth taking a look at the work they've done on their website. You will see tons of familiar brands and faces.
Electric Studio
If you are looking for a brand that specialises in a broad range of design and optimisation for digital channels like WordPress, Electric Studio ticks this box. The Oxford-based digital marketing services agency helps clients design, build, and optimise their WordPress websites, ensuring they perform well in the search engine result pages. Boasting more than 50 years of combined experience, Electric Studio is 100 per cent independent and its clients include Kings College London, Costa, SHARP, Charles Bentley, Oxford University, NHS, and Oxford University Press.
Another digital marketing agency that has an impressive list of clients to boot. Fastfwd has provided campaigns for brands like QG, Leica, Miss Selfridge, Ann Summers, and even Vogue. Located in Birmingham, Fastfwd deliver stunning projects across the realms of digital marketing, design, and development. Their services include, but are not limited to; CRO, SEO, inbound marketing, content creation, lead generation, social media marketing, bespoke digital support packages, build and development, digital marketing campaign design, and digital strategy.
Engage
Based in Leeds, the brand's name gives it all away; Engage Interactive is here to make sure that you are engaging with your client base and target consumer base in an impactful manner. The company does this by providing a comprehensive selection of marketing funnel services spanning social media, email marketing, search optimisation, paid advertising, and web design and development. They have some impressive clients to their name too, including Yorkshire Tea, Jet2, Milwaukee, At The Races, Premier Inn, Leeds Building Society, Giraffe, and Heineken. Also, if you would like to align yourself with a company that gives back, engage certainly ticks this box. Now in its fourth year, Engage Elympics is the company's yearly challenge to become the healthiest agency in the United Kingdom while donating money to charities in Leeds. So far, the company has donated over £28,000. Pretty impressive, right?
Builtvisible
Last but by no means least, we're finishing off with Builtvisible, which is a digital marketing agency that is based in our capital city, London. The company specialises in online marketing strategy, building awareness, content marketing, PPC marketing and SEO strategies. From tactical activation to strategic roadmaps and foundational consulting, the agency promises to give you access to some of the industry's smartest minds so that you can reach your brand's KPIs and long-term growth objectives. They have a 95 per cent client retention rate, which is certainly something worth shouting about. They have also been recognised at The Guardian's Marketing and Public Relations Excellence Awards, as well as at The Digital Impact Awards in 2018.
Hallam
A 'strategic' digital marketing agency, Hallam started way back in 1999 in Nottingham. Now with offices are experts in both the UK and Europe, Hallam provide six main services. These are SEO, PPC, PR, social media, web and creative. They've worked with brands including Raliegh and Speedo, the BBC and even the United Nations in a digital PR campaign. And they aren't modest about what they've achieved, boasting their awards on the website. This includes being listed in The Drum's Top Digital Agencies 2021 and a Google EMEA award for helping businesses grow online.
Velocity
Velocity, headquartered in London and New York, are a digital marketing agency focusing on performance and content marketing. They focus on providing 'meaning, metric and mojo' to their B2B clients: finding the stories that matter, using analytics and becoming a likeable brand. They've worked with clients including Amazon Web Service, Sprint, OpenMarket and Informatica.
Dandy
Dandy is a digital marketing agency for SMEs, based in London. Their provide a three-pronged service: SEO, PPC management and digital consultancy. They offer SEO and PPC packages, each split into 'starter', 'pro' and 'enterprise' options. They've worked with Yieldify, The Goodness Project, Isoline and ATS Euromaster.
The Good Marketer
Based in London, The Good Marketer is a digital marketing agency offering a comprehensive range of services. This includes social media advertising, PPC, SEO, email and content marketing. Founded in 2017, with a team of two dozen people working with nearly 60 clients. They offer packages ranging from 'Starter' level to 'Advanced'. They've worked with clients including Prospect Research, Bling London and The House Outfit.
Moburst
Founded in Israel in 2013, and opening a US office in 2014, Moburst is a digital marketing company that aims to help their clients achieve 'hypergrowth'. They offer marketing services, organic awareness, creative and content, media buying and product and dev services. They've worked with Uber, Samsung, Gett, and Pfizer.
Genie Crawl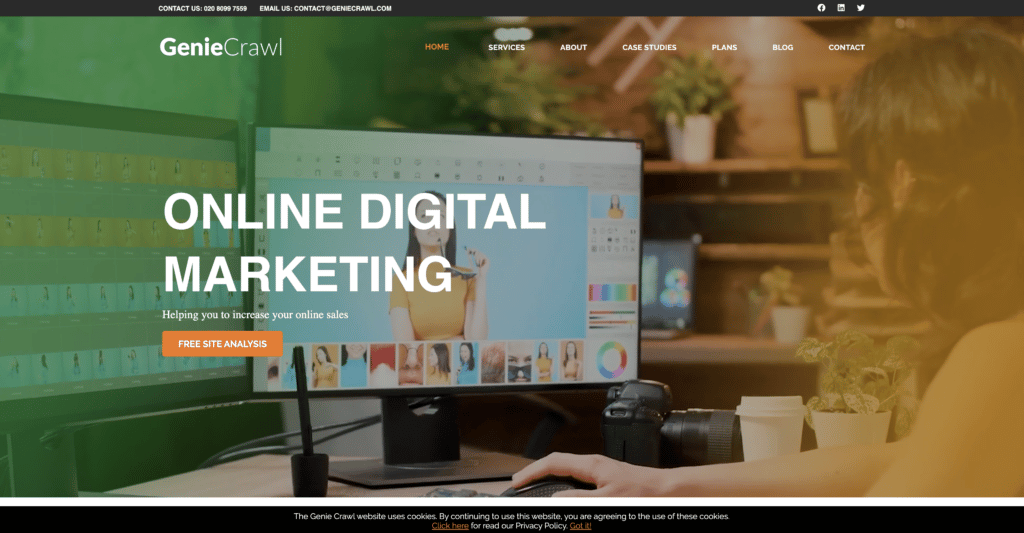 Founded in 2018, Genie Crawl define themselves as a 'boutique' digital marketing agency. They offer SEO, PPC, reputation management, video management and lead generation services. They boast 500 completed projects and a 96% satisfactio rate from customers. Those customers include big names like Papa Johns, Easy Downloadz and Dubai Adventure Safari.
Peaky Digital
Peaky Digital are a D2C and B2B digital marketing agency, founded in 2016. They provide services in PPC, social media, email marketing, SEO, content marketing. As a boutique digital marketing, they work without contracts, aiming to build long-term partnerships with clients based on results and trust. Their clients include La Pochette, Wanderlust Life, Circular&Co and Genecon.
Reload Digital
Founded in 2009, Reload Digital work with eCommerce and retail businesses, providing omnichannel marketing. They have developed an eCommerce framework that has been tested with over 500 brands. Based in London, they offer performance marketing, SEO, data analytics and reporting, and affilitate marketing. They've worked with clients including Shopify, LoyaltyLion and Quantcast.
Digital Cake
Founded in 2017 in Birmingham, Digital Cake are an eCommerce digital marketing agency. They offer a range of services, including SEO, PPC, affiliate marketing and website development. They've since expanded with offices in London and Manchester, and have worked with companies including Enjoy Rogue, Bad Monday and local businesses like Birmingham Museum's Online Shop.
Notable Mentions
The Best Results-Driven Digital Marketing Agency
RDM
Results Driven Marketing (RDM) is a company that provides b2b business data to people who work in marketing. They provide telephone numbers, emails, postal addresses, and other useful information about businesses. They also provide mailing lists for companies like yours.
---
Albion
Albion Digital Marketing is a leading team of digital marketers who use innovative strategies to help businesses succeed online. Their creative solutions and strategic thinking allow them to provide clients with custom web design, ecommerce development, SEO, PPC management, social media advertising, and more.
---
WebFX
WebFX provides comprehensive digital marketing services to some of the world's leading brands. Their team includes award-winning designers, developers, and content creators who take pride in being able to deliver high-quality results for every client.
---
Smart WSI Marketing
Smart WSI Marketing is an online marketing company offering full-service internet marketing solutions including web design, search engine optimization (SEO), pay per click management, social media marketing, lead generation and conversion rate optimization.
---
Digital Marketing Agency (DMA)
Digital Marketing Agency (DMA) is a web marketing agency that offers SEO services, PPC services, social media marketing services, web design services, web development services and a host of other online marketing services.
---
Noise Media
Noise Media is an award-winning social-first media agency that works with leading brands and start-ups. Their team of paid media experts, strategists, videographers, content makers, animators and social thinkers drive growth for brands using a full-funnel, test and learn approach
---
Looking to work with a top marketing agency in London or the UK?
So there you have it: our list of the top marketing agencies in the UK today. Whatever you do, make sure you choose the marketing agency with care. It's all about finding the agency that fits with your brand, and can execute your marketing strategy in alignment with your business goals.
For example, B2B businesses need B2B marketing agencies. Marketing relies on experience and understanding, and B2B agencies understand the needs of B2B marketing strategies. This includes focusing on detailed and educative content, and an understanding of the longer B2B, as a result of requiring buy-in from the business' chain of command. This means a sales process can last months and involve multiple teams. Meanwhile, marketing agencies work in a specific niche, for example content marketing agencies.
You should also review the agency's experience. Who have their previous clients been and have their campaigns been successful? What's their search engine presence? Understanding what the agency has done previously will help you understand what they'll do for you.
Reviews can help with this, but it's important to make sure the reviews are genuine. Independent review platforms are recommended. Reviews on a company website might not be entirely valid, while single reviews shouldn't be taken in isolation.
All things considered, you need to choose a marketing agency carefully to get the results you're aiming for. With thousands of marketing agencies in the UK today, the selection process can be overwhelming and daunting, especially if you're lacking experience working with marketing agencies. We hope this article has given you a clearer idea of the options out there, and useful tips on what you should consider during your search.
More 'best of' agency lists you might be interested in
Digital Marketing Agencies FAQs
What is a digital marketing agency?
An online marketing agency is responsible for managing online advertising campaigns, including SEO, social media, PPC, and other internet marketing methods. It helps companies establish awareness within their target market to drive leads and sales that result in a return on investment (ROI).
How much does it cost to hire a digital marketing agency?
Ultimately it will depend on the location, skillset, experience and value a digital marketing agency can deliver. Find out more about the price of digital marketing services.

As a rule of thumb, successful businesses spend between 5 to 20% of their annual sales revenue on marketing. That percentage is often split between in-house resources and digital marketing agencies.
How do I find a good marketing agency?
Selecting the right agency is often a complex and confusing process. It's a big investment for any business, which means you need to be careful when choosing an agency. The following criteria is what Gripped recommends you use when selecting your agency:

Specialism - Agencies have different areas of specialisation. That could be a specific channel, audience type or market segment. We advise you think about what it is you need to achieve to inform what type of agency you require.

Cultural Fit - Do they fit with the way you see the world. There must be common ground. Are you considering a crazy creative agency, when you're a traditional business with a traditional customer base? Consider how a long term relationship will work and select based on how you see a relationship working practically.

Sector - Can they demonstrate their experience of working with businesses like yours. Have they seen a business in your situation and can they demonstrate their success in helping other businesses like yours be successful?

References - Will they let you speak to their customers? Ask the agencies you are engaged with if you can speak with their existing customer who can tell you in their own words what the agency is like to work, where they are strong, and where they are weak.

Terms & Commercials - Agencies have different ways of working. You need to decide which model best suits your requirements. They will most likely work on one of the following models, monthly retainer, hourly/day rate or per project. Costs and pricing vary from agency to agency.
What are the benefits of a marketing agency?
A marketing agency has access to a wide range of resources and expertise, which makes them better equipped to help you achieve your business goals. They also offer a variety of services, such as website design, search engine optimisation, email marketing, social media management, and digital advertising.
Why hiring a marketing agency is important?
Hiring a marketing agency is important because they know how to market your business effectively. They also understand what works for your industry and target audience. A good marketing agency will help you create a plan that includes all aspects of marketing such as branding, website design, social media management, SEO, email marketing, etc.
What are the different types of marketing agencies?
There are three main types of marketing agencies: Marketing Agencies, Digital Agencies, and Creative Agencies. A marketing agency is a company that provides marketing services for businesses. They may be specialized in certain areas such as SEO, PPC, Social Media, Email Marketing, etc.

Here are some other categories of agencies that you may find during your research;

Digital Marketing Agency, Growth Marketing Agency, Performance Marketing Agency, Creative Marketing Agency, Social Media Marketing Agency, Advertising Marketing Agency, Account-Based Marketing Agency, Personal Reputation Marketing Agency, and Brand Agency.
Who needs a marketing agency?
There is a number of key reasons why any business might need a marketing agency. Here are the seven main reasons:

Marketing is always a second thought in any conversation about your go-to-market strategy
You struggle to justify a marketing budget
You aren't happy with your sales performance
You past marketing results have been below par
Your sales teams don't get good leads
You don't have marketing skills in your team
Your competitors are better at marketing than you