46% of companies planned to increase their digital marketing spend over the last year, while over 70% of marketing spending in the United Kingdom is now dedicated to digital marketing. This only solidifies the fact that digital marketing should be the core focus of any business's marketing strategy.
Digital marketing agencies can provide expert knowledge on how to organically grow a website's traffic and proven lead generation strategies. Either as a way to augment or replace in-house marketing teams that don't have the internal knowledge, resources or capabilities, businesses can outsource almost any marketing activity to a digital marketing agency.
But, how do you find the top digital marketing agency that's right for you in a very competitive market?
What makes a great digital marketing agency?
Here's what you should look out for when identifying which digital marketing agency you should partner with:
Services: Not every digital marketing agency will offer every aspect of digital marketing. Some will specialise in SEO, web design, paid ads, or social media. A great digital marketing agency will have capability across the board, being able to demonstrate how they can tie those strands of marketing together into a coherent strategy with outcomes and goals.
Strategy and Execution: A great digital marketing agency will be able to guide and challenge you, and work together to set a clear vision of the future. They must be able to turn that strategy into a plan with clear deliverables. As they are delivering these tactics in life, they must learn from the results and translate that back into an adaptive strategy that each month continues to deliver against the objectives. Making it – over time – more and more effective.
Experience and Proven track record: There's a big difference between 'talking the talk' and 'walking the walk'. An agency can make promises all day long, but if they can't deliver on them, then they're a waste of your time and money. A great digital marketing agency should be experienced and be able to demonstrate the ability to create, build and deploy effective strategies and tactics for a business like yours. Do they have customer feedback on their website or creditable sources to back this up? Don't take their word for it; take the word of their clients and reviews.
Long-Term Planning: There are some cases where you may only need short term help. Great, digital marketing agencies can provide that; however, those that propose effective long-term plans are the strategic partners you need. Marketing won't see results overnight, or even over a week – it's an ongoing process, and agencies that recognise this and incorporate it from the get-go typically know what they're doing.
Flexibility: Your marketing activity isn't going to be kept at 'X amount of blogs or social posts a month' forever. Sometimes you'll need to ramp up your marketing efforts, and sometimes you might want to scale down. A great digital marketing agency will be flexible enough to adapt to this and deliver on expectations set. However, this will only be truly effective if the agency has…
Excellent Communication: At the end of the day, when partnering with a digital marketing agency, they'll be working with and for you. And as you would expect with someone in your own team, you'll want to be able to know where they're at with tasks, projects, and receive updates on what's going on. Great digital marketing agencies will be proactive in communication, ensuring that you're always in the loop every step of the way.
Below we have built a list of the 37 best digital marketing agencies in the UK and categorised them based on what they do best or who they would serve best.
Best Growth and Results-Driven Digital Marketing Agency in the UK
Gripped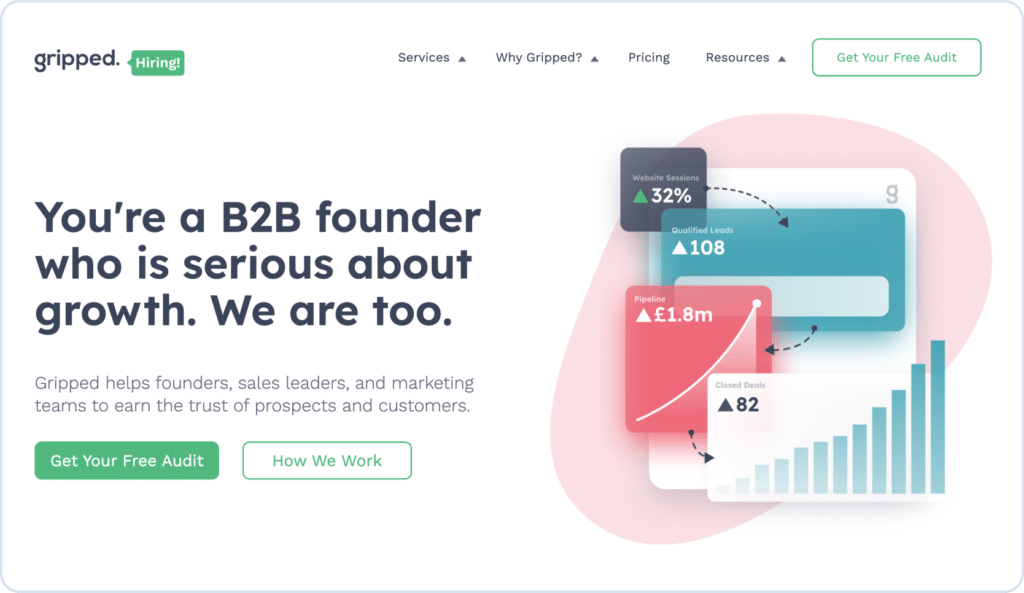 Gripped is headquartered in London and supports B2B SaaS and tech clients on their growth journeys by combining everything from paid media and sales enablement, to such expertise in content marketing that we could be our own b2b content marketing agency. The goal is to help businesses achieve outcomes based on solid, informed foundations. Gripped are with you for the entire marketing journey. From research and strategy through to execution and management, their aim is to help you grow within your market and close more deals. Gripped's satisfyingly simple approach to digital marketing provides a friction-free experience for companies and their clients.
Services on offer include, B2B inbound marketing, website design and development, tried-and-tested content marketing, paid social & paid search, SEO, lead generation, the list goes on. All of which is overseen by an expert team that will take their time to know your business and product/service, as if they were your own employee, to deliver the best possible digital marketing strategy.
Gripped specialises in rolling 90-day growth plans, and fortnightly meetings with your dedicated account managers to ensure that growth and strategies are all moving in the right direction and that you're satisfied with what's happening in the present and the future. This allows you to track and measure your growth and lead generation effectively.
Key services and benefits include:
Free Growth Audit before any contractual commitments, which includes useful insights on how you can generate growth, convert visitors into leads, and turn those leads into sales.
Covers all aspects of digital marketing, including: SEO, paid social, demand generation, lead generation, sales enablement and website design and development
Fast and flexible strategic planning to suit the changing needs of your business
Personally researched and curated growth blueprint
Data-driven outcomes
Extensive B2B tech, SaaS and IT services sector expertise
Fortnightly check-ins with dedicated account managers and specialists
Catering to whatever MarTech platforms you use
And much, much more
Best Digital Marketing Agencies in the UK
Velocity
Velocity aims to offer 'Meaning, Metrics & Mojo' in an always-moving B2B tech market using fast-acting and effective content strategies. They're forward-thinking and are all about performance, with the plan to move clients from the era of 'publish it and they will come' to the era of 'show me the money'.
The businesses they work with include B2B clients, both big and small. Some notable clients have been Open Market and Sprint Business, where Velocity has helped them reach their outcomes and stand out in what can otherwise be a difficult-to-understand market.
Key services and benefits include:
Trackable, industry-specific content solutions
Comprehensive digital oversight
Solutions delivered at speed
Modern
Modern's focus on singular campaigns and wide-reaching transformation within B2B landscapes has earned its place as a top digital marketing agency. Modern's main goals focus on business growth, exploration, and depth.
A partnership focus driven by data analytics and insights has seen Modern make ripples across B2B landscapes with comprehensive services that include: account-based marketing, buyer enablement, and performance marketing that maximises returns.
Key services and benefits include:
Use of the latest ad technology
Seamless data transfers
Marketing automation
Octopus Group
A brand to sales philosophy is at the heart of digital marketing offerings from Octopus Group, who are a full-service B2B marketing agency focused on pulling together awareness and sales for results that clients can easily see.
With a number of industry awards under their belt, thanks to their unique marketing approach – The Brand to Sales Academy – Octopus Group promises to meet client challenges head-on. Full services that make this possible include high-performing martech automation, a complete approach to demand generation, and insight-activation strategies.
Key services and benefits include:
Brand-to-sales marketing solutions
Quick-start approach
Marketing automation
Incisive edge
"No time wasting, no marketing fluff, no jargon" — a serious agency for serious companies, Incisive Edge is tailored for corporate B2B marketing and they work with businesses like startups all the way up to 100+ employees.
Data-driven and metric focused, their SEO team delivers tangible results that boost blog visits and demo requests by providing personalized responses to the gaps in your marketing strategy.
Key services and benefits:
GTM strategy and growth
Inbound marketing for scaling
Demand generation for sales
Best Digital Marketing Agencies in the UK for Small to Medium-sized Businesses (SMBs)
Cal Partners
Newcastle-based Cal Partners offers marketing for professional service firms, with a client backlist that includes accountants, barristers, consulting companies, and more. A unique and award-winning understanding of these often complex industry expectations is a particular agency strength, alongside a comprehensive scope of digital marketing and social media-specific services including everything from podcast creation to PPC content and campaigns to remarketing.
Cal Partners also provides a full marketing service across more general priorities, including PR, seminars, events, and sponsorships. All delivered by a specialist team with a unique understanding of how to ensure the right balance between professionalism and advertising.
Key services and benefits include:
Comprehensive professional marketing solutions
Virtual marketing across digital campaigns
Realistic strategies to suit business needs
The Good Marketer
The Good Marketer caters specifically to SMBs looking to grow with the utmost digital impact. They consist of a young, innovative team that uses proactive and effective marketing solutions to form bonds with their clients and facilitate results.
Services that include social media advertising across platforms as well as website development for Shopify, WordPress, etc., ensure scalable, bespoke campaigns that meet businesses where they're at and provide the tools and services they need to move beyond that point.
Key services and benefits include:
SMB-specific solutions
Always-flexible marketing strategies
Adaptable digital marketing packages
Cheshire Cat Marketing
The female-led team behind Cheshire Cat Marketing provides a unique approach to SMB-specific digital marketing offerings. These strategies are tailored towards helping local entrepreneurs develop no-nonsense, jargon-free solutions.
Growth, traffic, and increased enquiries and sales are all delivered by a close-knit team with expertise in services that span across full digital landscapes, including SEO, social media, creative content, and even one-to-one marketing training sessions. All with an overarching focus on honest and real marketing advice that's accessible for all.
Key services and benefits include:
Jargon-free digital marketing solutions
Oversight from a female-led team of experts
One-to-one marketing training
Dandy
Results-driven marketing services across SMB clients, delivered by a remotely operating team for client convenience across the UK have seen Dandy securing results for a range of top-name clients that include The Goodness Project and Isoline.
Dandy's offerings include digital consultancy and PPC management. All with a focus on ongoing support that's easily available at any time, even on weekends and evenings. Without the need for long-term contracts, Dandy especially works to become a member of your team, providing 'no-bull' tailored packages with the benefit of full transparency and speedy support.
Key services and benefits include:
Always-on remote operations
Results-driven marketing
Contract-free
SQ Digital
Built specifically for making digital marketing worthwhile for SMEs, SQ Digital rests on cost-effective guarantees and transparency of the marketing process. Custom built for the obstacles and responsibilities that SMEs face in the current market, they back up their expertise with a commitment to show clear returns on investment and extensive, award-winning industry credentials.
Recognising that the digital marketing process is continuously evolving, and that SMEs don't always have the cash flow for risky campaigns, SQ Digital offers full client involvement in marketing decisions and ground those decisions in continuous assessment insights.
Key services and benefits:
Digital PR outreach throughout your industry
PPC management
Website and app development
Best Digital Marketing Agencies in the UK for Start-Ups
Zest Digital
Growth-focused marketing agency Zest Digital provides test-based digital marketing, delivered through a range of unique solutions across its London, Oxford, and Birmingham offices. These include an end-to-end growth engine, and a purpose-built growth tracker.
A robust and simple OSKAR coaching methodology helps to set Zest Revenue apart by treating marketing success as a cumulative process that relies on finding the perfect balance of objective, strategy, and results for successful growth campaigns that are easy for everyone to oversee.
Key services and benefits include:
Growth solutions
Test-based OSKAR coaching methodology
30-days of free, unlimited design and development fixes
Limelight Digital
With key focuses on SEO, PPC, and social media, Limelight Digital's expert team focuses on low-cost, start-up growth campaigns which have already led to success for clients including International Timber and CarMoney.
An ongoing focus on the evolution of digital marketing, as well as unique focuses on current market competition, allow Limelight Digital to provide personalised and affordable solutions for the companies who need them the most.
Key services and benefits include:
Startup-specific solutions at a low cost
Comprehensive digital marketing oversight
6000 Adword conversions a month
Best Digital Marketing Agencies in the UK for Large Businesses
The SEO Works
As its name suggests, SEO Works is an SEO agency with a specific focus on search marketing to provide outstanding results to a client backlist including RAB, Heart Research UK and NHS.
Tangible business results can especially be enjoyed through oversight from leading search specialists, including across SEO-specific focuses like content creation, monthly reports, and multi-award-winning campaigns that have already led to over 1000 number 1 search rankings among companies across industries within B2B, automotive, and healthcare.
Key services and benefits include:
Certified Google partners
Search industry expertise
Conversion rate optimisations
DNRG
DNRG believes in holistic campaigns that always prepare for future changes. The creation of meaningful connections is especially at the heart of what DNRG offers. They ensure reliable results across website optimisations, paid social campaigns, email marketing, and more.
Using this full-service oversight, the DNRG team helps companies reach their target audiences, while the use of insights ensures adaptive, responsive solutions that are always based on what works.
Key services and benefits include:
Holistic marketing solutions
Google Shopping optimisations
Transparent reporting
Saatchi & Saatchi
Having been on the market since 1970, Saatchi and Saatchi is a marketing institution that spans 114 offices across 67 countries. Despite this extensive reach, Saatchi & Saatchi's overall campaign focus remains satisfyingly simple – to create some of the most influential creative ideas across modern Britain.
This is something that the now-global creative company achieves, thanks to being a full marketing service and integrated communications network that's already produced results across major market contenders including BT, The British Heart Foundation, and Expedia. Saatchi and Saatchi also enjoy partnerships with over half of the top 50 global advertisers for world-class results with the widest reach.
Key services and benefits include:
World-class creative communications
Access to top global advertisers
Extensive industry experience
BBH Global
Having been in the business since 1982, the team at BBH Global understands well what creative, valuable, branding looks like. Now, this London-based digital marketing agency has offices in top locations like Los Angeles and Singapore, all of which deliver cutting-edge digital solutions that, in keeping with the company's motto, 'When the World Zigs, Zag'.
From purpose to point of sale, creative marketing solutions are at the heart of BBH Global. Spanning services that include transformational brand strategies, communications and digital experiences overall.
Key services and benefits include:
Cutting-edge, creative strategies
Impressive client roster
Complete sales strategies
Wilderness Agency
Past projects with brands like Now TV, Southern Comfort, and Warner Bros. have earned Wilderness Agency a reputation as one of the fastest-growing independent agencies in Europe, and a team of 40+ specialists across London and Amsterdam are hard at work making sure it stays that way.
Amidst service offerings including paid social content and insights, a focus on going against the 'big network grain' has helped Wilderness Agency to find its footing. This is thanks to creative, innovative marketing solutions that have seen even big entertainment firms changing the way they work to appeal to more impressive audiences overall.
Key services and benefits include:
Unique entertainment industry understanding
Social-first solutions
One of Europe's fastest-growing independent agencies
Clicky Media
'Growth partner', Clicky Media offers world-class digital transformations through a predominantly performance-led focus that utilises a fusion of insight, innovation, and creativity. This direction helps propel revenue and profits while simplifying digital strategies overall.
Clicky Media especially aims to provide multi-channel solutions through offerings like its performance marketing approach which elevates results using real digital metrics. Creative campaigns sit alongside this more strategically aligned outlook to meet client goals and enhance visible outcomes across a breadth of markets.
Key services and benefits include:
Performance-focused marketing
Measurable solutions
Creative campaigns
Kota
Focused on "bringing brands to life digitally" this top digital marketing agency maintains a vibrant, contemporary approach to branding that's aimed at pushing their clients beyond their creative comfort zone. Centering the design process around beauty, thought and impact, Kota promises to deliver a digital facelift for their clients that will win new fans to the brand.
Their client list is wide and varied, having worked with a few heavy hitters like Jamie Oliver, as well as global charities and international design studios.
Key services and benefits:
Creative web design with fully bespoke websites
Full branding and rebranding based on strategic direction and creative design
Digital marketing campaigns to captivate and convert
Beyond
"People making products for people", Beyond have positioned themselves as market leaders in B2B digital marketing with a client list that includes Apple, Google, Facebook and Netflix. They start with figuring out what an exceptional user experience would look like then engineer the right product to fit those user needs.
Using a customer/competitor audit to see if you're delivering to the level you should be, combined with technical transformations and multiple product iterations, Beyond offers product-driven growth that works regardless of where you are in the market.
Key services and benefits:
Customer experience audit
Cloud platform transformations
Product health check
Digital Uncut
Digital Uncut is an award winning, Web.3 focused marketing agency that's designed for startups and promises to fit into the fast-paced work culture so the business is free to reach its full potential.
Data-driven with a built-in process to keep tabs on the health of your marketing campaigns ROI, Digital Uncut is pushing the expansion into metaverse marketing with proposals for augmented reality and omnichannel coverage for your brand.
Key services and benefits:
Organic growth from data-driven SEO
Multi-channel PPC content and campaign automation
Intuitive and future proofed web development
Loud Mouth Media
Not only award winning but ranking in the top 3% of digital marketing agencies in the United Kingdom, Loud Mouth Media have the receipts when it comes to being market leaders. Offering a team that fully integrates into your business, whether that means adapting a marketing strategy or creating one from the ground up, they bring to the table a comprehensive range of services that promise to get the job done.
Loud Mouth Media are partnered with Bing, Meta and newly appointed premier partners with Google, they enjoy a top-class marketing position that they can share with their clients.
Key services and benefits:
Conversion rate optimisation
Digital marketing strategy with ecommerce and SEO
Social advertising tailored to business-specific audiences
Best eCommerce Digital Marketing Agencies in the UK
Reload Digital
'The #1 rated agency for eCommerce & retail brands', Reload Digital offers strategic, omnichannel retail marketing solutions using a unique, industry-leading eCommerce growth framework that's already led to success for more than 500 brands.
Deep brand understanding and frequent communication has helped them to earn a strong reputation, all while blending eCommerce consultancy and agency work for verifiable results across B2C, social media, search engines, and much more.
Key services and benefits include:
Industry-leading growth frameworks
Focused commercial impact
Full client integration
DMT
Working with top brands like Long Tall Sally, DMT has done more than enough to position itself as an industry leader across eCommerce landscapes. Businesses that utilise online sales, including Shopify Websites and AWS, that are looking for a refresh or have their marketing efforts supercharged will be in safe hands with DMT.
Intelligent marketing software that improves performance enables DMT to provide the highest possible returns on ad spending, alongside oversight by the only UK-based Facebook Premium Marketing Partner outside of London.
Key services and benefits include:
eCommerce-specific services
Close customer contact
Sole UK access to ROI hunter
iDigitalise
With a unique approach to eCommerce that sees bricks and mortar fashion and luxury goods retailers breaking into online markets, iDigitalise delivers fun and approachable mobile and web projects using discovery, strategy, production and consultancy.
An approach to innovative technology stacks for even unversed businesses is at the heart of iDigitalise offerings. The team then works closely with clients to understand gaps in existing web and mobile app performance using unbiased, practical advice within a lean approach that even small businesses and startups can easily afford to benefit from.
Key services and benefits include:
30-minute free website reviews
Consultant-led solutions
eCommerce expertise
Genie Goals
Genie Goals revolutionises marketing for retail brands seeking growth with the help of a carefully curated auditing process that keeps strategies aligned with online success – or failure – as it stands.
Across services including display marketing, affiliate campaigns, and paid social, Genie Goals has already helped big-name brands like Mamas and Papas achieve eCommerce success. This revolutionary team's diverse experience delivered to client accounts enhances the chances that retailers, no matter the niche or stage of business, success with Genie Goals in their corner.
Key services and benefits include:
An audit-lead approach
Affiliate methodology
Experience-driven approach
Peaky Digital
Peaky Digital is a full-service boutique digital marketing agency that aims to drive sales for its clients using a range of expertly-overseen services including SEO, PPC, and eCommerce marketing.
A focus on complete online transparency across industries and countries makes it more likely that Peaky Digital clients will be found by the right traffic. And, that significantly increases the chances of sales regardless of company, or market specifics.
Key services and benefits include:
Full-service solutions
Free audits
As much as 137% increase in online sales
9xb
Most famous for its creation of eCommerce platform Puracto, 9xb is a multi-award winning eCommerce digital agency that aims to solve complex online problems using innovative solutions that manage and support even high-performing eCommerce websites.
One-off projects and long-term partnerships are available across a wide range of services that include the design, development, and optimisation of eCommerce sites, as well as a range of discovery tools that are offered with the expert oversight of this Shopify and BigCommerce partner.
Key services and benefits include:
Award-winning eCommerce expertise
Technical and strategic consultancy
Award-winning UX and UI designs
Best UX & Web Design Digital Marketing Agencies in the UK
Adtrak
Adtrak is an award-winning results-driven design, marketing and brand agency that serves clients across the whole of the United Kingdom with the help of dedicated client teams, nationwide accounts teams, and multi-discipline focuses.
Leaning towards simplicity, visibility, and performance, Adtrak helps deliver according to client needs. As does the vast experience that the Adtrak team has collected since entering the market in 1997. Services include SEO, branding, videography, web design and more to generate quality leads through strategic, high-impact solutions.
Key services and benefits include:
Nationwide account teams
20+ years of experience
No-fixed-term contracts
BozBoz
Creative thinking and cutting edge technology are just two ways that BozBoz has ensured notable results for even big brands like Coca Cola, with a particular focus on creating remarkable experiences that help this Brighton-based agency stand out.
With fluency in crucial platforms like Shopify, WordPress, and Hubspot, the BozBoz team offers world-class web design services that tackle the four crucial elements of success – strategy, creativity, technicality, and marketing. An intelligence-led approach ensures satisfying results across marketing campaigns that factor in every aspect of a company's online presence, including content, email, paid media, and social media.
Key services and benefits include:
Online platform fluency
Award-winning websites
Impressive client list
Evoluted
Award-winning web design agency Evoluted has previously worked with clients including Peak Indicators and Mummyfit to provide innovative online solutions across key areas of focus, like digital design, web development and design, and digital marketing campaigns.
Available to UK-based and multinational companies, these innovative and design-led priorities centre around an ROI-focused delivery across an award-winning team. From UI design to UX audits and content marketing that drastically enhances online visibility, these immersive digital solutions certainly don't leave any design stone unturned in the quest for real and trackable results.
Key services and benefits include:
Design-specific solutions
Clickable website prototypes
Bespoke web applications
Best SEO-focused Digital Marketing Agencies in the UK
Accelerate Agency
Accelerate Agency is an AI-powered SaaS marketing agency that's been in the SEO world for longer than Google. In fact, with over eighteen years of experience, team members like director Nick Brown have had plenty of time to develop Accelerate's 360 search focus, which combines human expertise, data, and machine learning for large-scale outreach results.
Services focus particularly on SEO and content creation. They account for technical, onsite, and offsite focuses within completely customised solutions across challenges that include technical gap analysis, site migration, and competitor link analysis.
Key services and benefits include:
360 SEO approach
Evergreen content
Extensive SEO analysis
WHR Digital
WHR Digital is all about offering affordable SEO services to small businesses. This goal is achieved through the use of complete, easily-accessible SEO packages across services like wide-reaching and local SEO, PPC, infographic design, WordPress development, and more.
A diverse team of select SEO experts behind the scenes ensures that otherwise budding companies are given the tools and knowledge to get marketing strategies right. A free-to-access blog and YouTube channel significantly help UK, Canadian, and Australian businesses get their foot in the SEO door and justify WHR Digital's services to their monthly budget.
Key services and benefits include:
Small business-specific solutions
Complete plus, premium, and prime SEO packages
A focus on global and local services
Flycast media
Offering a free website audit to get you started, Flycast Media blends inbound marketing, Google ads, SEO, social media coverage and web design to generate a bespoke marketing campaign for everyone they work with.
Using their 30+ years of internet marketing experience to deliver measurable results at every stage of the project, they've helped hundreds of clients get better traffic and convert more leads than they had before.
Key services and benefits:
Brand agency and reputation management
Local and national SEO optimisation
Social media, social PPC and mobile app design
Best Social Media & PPC Digital Marketing Agencies in the UK
The Social Shepherd
Social Shepherd's comprehensive and passionate approach to paid and organic social media campaigns significantly increases growth across crucial platforms. An honest and data-led approach to results especially sets Social Shepherd apart for ensuring award-winning, personalised multi-platform solutions that mean even Facebook has pinpointed them as a preferred marketing partner.
From social media management to the production of video content and influencer campaigns, Social Shepherd is undoubtedly a one-stop shop for bespoke social solutions delivered with an honest approach to marketing across a passionate, proactive team.
Key services and benefits include:
Results-driven social campaigns
Increased ROI from paid social & PPC
Growth-focused management
Hallam
With the simple goal of helping clients thrive online, strategic digital marketing agency Hallam has been fusing precision, persuasion, and results since 1999. Now, a focus on strategic, creative, and technical expertise has made this the UK's recommended agency three times.
Working across traditional SEO, PPC, and PR focus and more cutting-edge creative solutions, Hallam's 55 experts in the UK and Europe work from home and across four offices in locations including London and hometown Nottingham. They receive ongoing training at weekly Hallam schools to ensure the highest standards possible and the best results because of that.
Key services and benefits include:
Top-performing digital solutions
Continual in-house training
Unified results
Favoured
Favoured offers a comprehensive marketing overhaul focused on quality instead of quantity to give you "best in class" creative production. They're an award winning agency that cover all forms of social media advertising, customer conversion across all devices and strategic graphic design for all the content you need.
With a clear lean toward Tiktok and other app based marketing, Favoured might not be the right choice for all brands but they're got the performance history to back up their position — having helped 30 companies reach over 10 million people in the last 4 years.
Key services and benefits:
Microinfluencer marketing
Branding guidelines
Custom video and motion graphics
The right decision is all about results
A top digital marketing agency can transform your business in a range of ways but, outside of your company specific requirements, the main things you're striving for here is growth and the ability to turn strangers into leads, and enabling you to close more deals.
At Gripped, we work with B2B SaaS and tech businesses, helping shape and curate their growth through expert-driven strategies and timelines that we stick to. We deliver ongoing digital marketing strategy and advice to constantly improve your business wherever and however we can. We have a consistently high satisfaction rate with our clients, check out our Clutch reviews here. If that's not enough, we'll let real, tangible results do the talking, take a look at our results page too.
We focus on outcomes, and deliver them.
Do you want to discover how we can unlock your business's growth potential? Book Your Free Growth Audit Today.
---
1Digital Marketing Statistics UK [2022] | CyberCrew
More 'best of' agency lists you might be interested in