Are you a SaaS business looking to grow? Look no further; here is our article to help you find the best B2B SaaS Marketing Agency that will support your business.
Software as a Service (or SaaS) is a rapidly growing market. SaaS spans industries horizontally and vertically and has fundamentally changed how software is delivered, used, and valued. Building a SaaS product can be a painful experience, but taking a SaaS product to market can be even more complicated. Reaching new customers is increasingly complex, and many SaaS businesses wither and die on the vine before they build a critical mass of revenue-generating customers. FinanceOnline's research shows that the SaaS market is growing at 18% (CAGR) and will be valued at nearly £500 billion by 2023.
B2B SaaS companies have specific requirements for delivering a compelling go-to-market strategy. Often, they find it extremely difficult to attract and recruit sales and marketing talent with the niche understanding and skills that will make them successful. Over the past five years, agencies have been built with B2B SaaS businesses to help them take their product to market and win more customers.
To grow your SaaS business, you'll need to ensure that you've got the right people and skills. There are hundreds of thousands of marketing agencies globally, but only a minority have B2B skills, and only a small number of B2B agencies have the right levels of experience and expertise in SaaS markets. To help you make better decisions, we've pulled together a list of the fifteen best B2B SaaS marketing agencies that can help you.
Gripped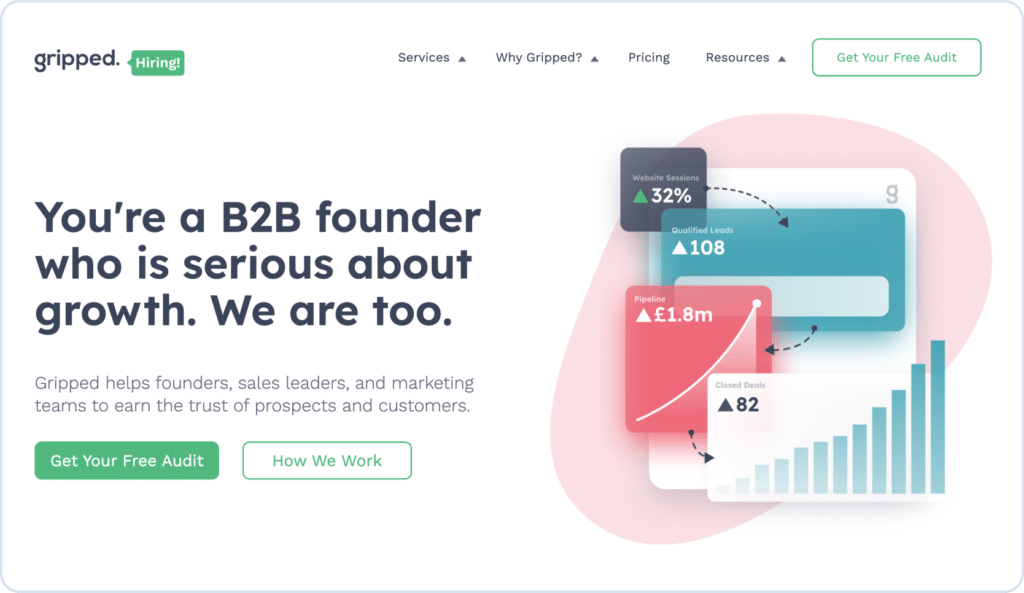 Gripped was built from the ground up to serve B2B SaaS and tech businesses. They focus on driving results with a broad range of B2B SaaS Marketing Agency services that help SaaS businesses drive demand and increase lead flow, and grow pipeline and sales. Having worked closely with B2B SaaS businesses over the last five years, Gripped has built a bank of case studies demonstrating how they delivered growth.
Gripped's business model is based on 19 years of experience working in-house at B2B SaaS, tech and IT businesses. They have created a digital sales and marketing methodology specifically designed to help B2B SaaS, tech, and IT businesses win more customers. Using a combination of B2B Saas content marketing, SEO, marketing automation, inbound marketing services, account-based marketing, paid media and market understanding, Gripped helps customers differentiate and focuses on helping build trust with prospects to support your sales team's success with a complex buying journey.
You can access a free Growth Audit from Gripped, where a growth expert will provide a free assessment of your existing digital sales and marketing presence and performance. The report will provide practical recommendations for where you can improve based on benchmarking your performance against key competitors. You'll learn how you can:
Attract and increase relevant visitors to your website
Convert more visitors into sales leads
Close more leads into recurring revenue sales
Reduce time in sales cycles
Gripped has also developed, The Founder's Guide to B2B SaaS Growth, which focuses on how SaaS and tech founders can deliver long term, profitable, sustainable growth. The Gripped team interviewed some of the UK's most insightful founders on their experiences, from startups to exits of £700 million to £1.6 billion. Gripped provides information on pricing for B2B marketing services here.
NoGood
Found in 2017 by former Executives with experience working with some of the world's largest tech brands (Microsoft and Amazon). The NoGood team are based in New York with offices in Los Angeles and Miami; they have a team of 35 growth hackers who work with well-funded startups and enterprises. They offer services right across your marketing funnels ranging from Search Engine Marketing, PPC, social media marketing, conversion rate optimisation, SEO, Content Strategy, Performance Branding, Email Marketing, Video Marketing and SMS Marketing.
Kalungi
Kalungi is a B2B SaaS Marketing Agency that offers pay per performance pricing, a pricing method which ensures you that your precious marketing budgets will not go to waste as you will only be spending money when you get solid results. Furthermore, Kalungi specialises in delivering inbound marketing strategies and marketing automation, conversion rates optimisation, design, video marketing and content creation, marketing strategy, and training your in house marketing team.
Ironpaper
Ironpaper is a B2B growth agency with a focus on SaaS businesses. They focus their energy on being driven and directed by metrics and have developed strategies to generate qualified leads, drive sales pipeline growth and deliver better market presence through search engine optimization (SEO). They offer a full range of services that support every funnel stage. Ironpapers service offering includes services across digital marketing, content marketing, lead generation, ABM and web development.
Ladder
Ladder was founded in 2014 in New York City and worked with clients like Facebook, Criteo and Glider. According to their website, they've worked with over 200 companies. Ladder has built a data-driven approach to help SaaS businesses reach their ideal customers at scale. They offer a full-service digital marketing strategy, content marketing strategy and performance marketing for fast-growing brands.
Cobloom
Cobloom is a SaaS Digital Marketing Agency that combines the long-term growth of Inbound Marketing with the rapid iteration and benefits of growth hacking throughout the entire funnel. Founded in 2016 with three employees, Cobloom was established to serve growing SaaS companies; Cobloom offers a way to quickly experiment and test crucial growth hypotheses while building a foundation for long-term customers that will use your product.
SmartBug Media
SmartBug Media is an inbound marketing agency covering inbound strategy, design, content, web development, PR, sales enablement, and marketing automation. Based in Newport Beach, California, SmartBug is built around 195 remote employees from across the United States. Their team comes from brands such as HubSpot, FCB, Seagate, HBO, Gartner, Deloitte & Touche, Electronic Arts, and UBM.
Refine Labs
Founded in 2018 in Boston, MA, Refine Labs help SaaS companies dominate categories and unlock significant growth possibilities through a never before seen combination of marketing strategy, research, and specialised execution. Refine Labs' is SaaS Digital Marketing Agency with a new demand model focused on high-intent leads that become customers. They identify top pipeline & revenue sources by channel through their robust performance analysis, then build a strategy to drive more of your buyers through that system.
Klood
Klood Digital is a SaaS growth agency that helps SaaS businesses fill their sales pipelines. Located in Newport Pagnell, UK and founded in 2011, Klood uses a growth model and guides customers through a structured approach to grow their business. Their services include inbound marketing, website design, HubSpot integration and more. Klood is a HubSpot Platinum Solution Partner that delivers revenue focussed results.
Accelerate
Based in Bristol and founded in 2017, Accelerate was born out of a passion for data, content and SEO. Accelerate a whole stack of services designed for SaaS businesses offering a holistic approach to organic search, put their customers in front of the people that matter, and rapid growth. Their services include SEO, Content Marketing, Marketing Campaigns, Content Partnerships, Inbound Marketing Strategy, Digital PR, and Marketing Automation.
SeeResponse
Based in Reston, Virginia and founded in 2016, SeeResponse is a full-service B2B marketing agency and a HubSpot Solutions Partner that bring digital marketing services to startups and enterprises. SeeReponse brings together robust B2B marketing strategies and lead generation for SaaS businesses. Their goal is to help their customers increase brand awareness and drive qualified leads. A typical client engagement begins with a discovery exercise to understand the key challenges and pain points. Then they put together a custom strategy focusing on the best marketing channels for growth and execute upon them.
Single Grain
Single Grain is a digital marketing agency that has been dedicated to driving growth for SaaS businesses companies like Amazon, Uber and Salesforce since 2009.
They pride themselves on staying at the cutting edge of marketing technology and search algorithms to keep themselves one step ahead. Single Grain's objective is to help its customers level up and succeed. Single Grain accomplishes this through mentoring or training and provides resources and tools.
Klicker
Klicker is based in Venice, CA and was founded to help its SaaS customers get you more traffic, more leads, and more sales online. They do that by offering a range of services, including Branding, Website Design, Search Marketing, Content Marketing, Conversion Optimisation, and Social Media Marketing.
What is a SaaS marketing agency?
A SaaS marketing agency is a specific type of marketing agency that is experienced in developing strategies and being responsible for promoting software-as-a-service products. Usually, SaaS marketing agencies will be focused on using data to drive strategy and key decisions around executable marketing plans. They will work closely with their business customers across a wide range of areas including but not exclusively demand generation, lead generation, sales enablement and conversion rate optimisation.
Experienced SaaS marketing agencies have years of expertise, both agency side and in-house, and demonstrable records and SaaS marketing case studies.
More 'best of' agency lists you might be interested in