Martech is technology and software specifically designed to enable marketing and sales teams to deliver more effective outcomes. As a B2B business, you need to make sure that your marketing team is armed with all of the tools they need to make your business a success. However, with so many different tools to select from, it can be overwhelming. You may feel like you have no idea what software is going to be right for your business, and which tools are nothing more than fluff and window dressing.
In this guide, we are going to take a look at all of the essential marketing technology tools that every B2B marketing team needs to have. We have split marketing technology tools into key categories so that you can find the right apps to build your martech stack based on your requirements. The marketing technology landscape is a broad category and requires a diverse expertise, and for the sake of this article we've included the following: content marketing, marketing automation, CRM, social media management, search engine optimisation, email marketing, live chat, website CMS, and blogging CMS.
Section 1:
Content marketing
So, let's begin by taking a look at some of the best content marketing tools for B2B marketing teams…
Content Marketing Martech: BuzzSumo
There are lots of great content marketing platforms out there for businesses today, and a lot of helpful tools, and we are going to begin with BuzzSumo. BuzzSumo helps you to find influencers and to assess topics. You will be able to find out what sort of content is trending in your sector. You will also be able to see what the competition is doing; what they are writing about and how they are marketing it. This is a great tool when it comes to creating a level playing field. It will ensure that your marketing team knows what they should be writing about. They will also be able to find new ways to market their content by finding the best B2B influencers for your industry too.
Content Marketing Martech: StoryChief
StoryChief is a great platform for content management because it puts everything you need to get your content done in one place. Your content channels can be organised, structured, and published with ease. It is especially beneficial when it comes to solving any duplicate content problems. This is because it enables you to benefit from more link authority and better rankings, and provide organic backlinks through canonicalisation, giving Google a heads-up to the origin of the content, and boosting your content all over the Internet with one click.
Content Marketing Martech: Kapost
Kapost provides content operations software that aligns the consumer journey and unites revenue teams. The platform enables you to find the hidden gaps in your marketing strategy and to use advanced search and filtering to audit and update content. You can also manage a custom, unified taxonomy to power reporting and analytics. Plus, all of your content will be managed by a single system of record, ensuring your operations are as efficient as possible.
Next, we are going to take a look at some of the best marketing automation tools for B2B marketing teams…
Marketing Automation Martech: GetResponse
https://www.getresponse.co.uk/
The first marketing automation tool that we are going to take a look at when it comes to marketing automation is GetResponse. GetResponse enables you to automate your marketing efforts. You can also run email campaigns, promote webinars, create landing pages, and complete a number of other tasks, all from the one solution. You can expect an outstanding user experience, as well as free on-boarding too. It is not hard to see why this has become such an important marketing automation tool for companies around the world today.
Marketing Automation Martech: HubSpot
Offering a full solution for marketing teams; HubSpot enables you to manage everything from CRM and customer service to sales and marketing. There are many benefits associated with using HubSpot. Not only does it offer social media integration but you can track all communications as well. The personalisation features are extensive and it also has a top-notch ticket system in place too.
Marketing Automation Martech: Pardot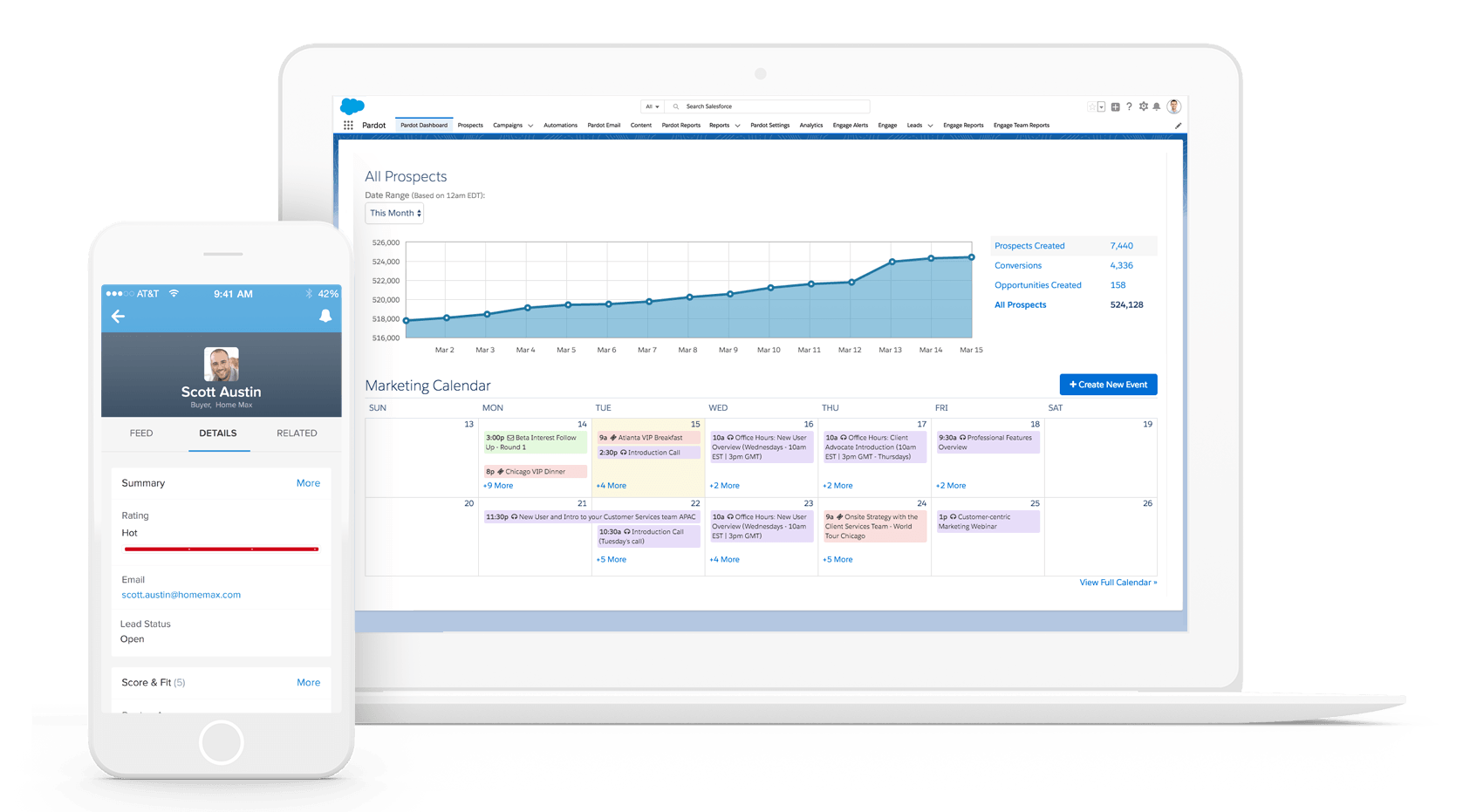 Pardot is helpful not only for your marketing team but all of the other teams that are going to be impacted by your marketing team's efforts. It can show your sales guys, for example, all of the interactions that a prospect has had. This includes the product pages they have looked at, the videos they have watched, the emails they have clicked, and the blogs they have read and a mobile app for when they are on the move. Therefore, it does not only help your marketing team to excel but it assists all of your sales team as well, as well as other professionals. This information can ensure that all interactions with a prospect are enriched and enhanced.
Next, we are going to take a look at some of the best CRM tools for B2B marketing teams…
CRM: Salesforce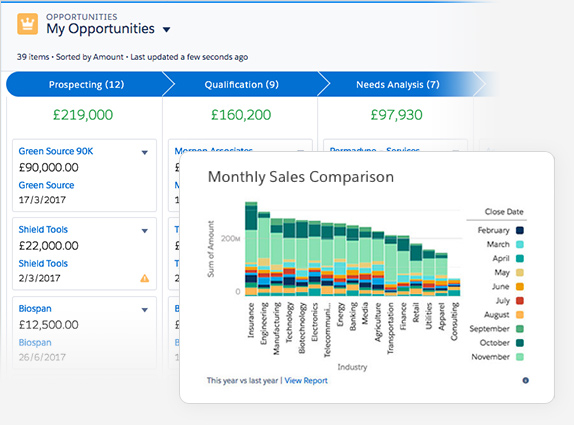 There are lots of great customer relationship management tools out there today, and so the importance of narrowing down your search with care cannot be ignored. After all, you need to make sure you have something that fits into the B2B landscape well. This is what Salesforce does. It is perfect for big companies that require storing a lot of data, including both lead and customer data. Moreover, this will enable your marketing team to build great relationships with customers and prospects. It can be argued that customer relationship management is eve more challenging for B2B businesses, which is why a tool like Salesforce proves to be so helpful.
CRM: Pipedrive
There is no denying that Pipedrive is one of the leaders in the world of CRM technology. It can be integrated with Google apps, including Google Calendar and Google Contacts, with ease. It also has a very strong foundation in direct sales. You can manage your business' sales pipeline with ease using this system.
CRM: Close
This tool has been designed with SMEs and start-ups in mind. If you are looking to send more emails, make more calls, and ultimately close more deals, Close CRM is a good option. It is one of the few CRMs that provides the likes of predictive diallers, email sequences, and lead management. Plus, you can enjoy a 14-day free trial with no credit card needed, so it's definitely worth giving this platform a try to see whether it is right for your marketing team.
CRM: HubSpot
https://www.hubspot.com/products/crm
Of course, it is impossible to talk about marketing tools without mentioning HubSpot. HubSpot is one of the most popular marketing tools out there for B2B businesses today, and rightly so. It is a one-stop-shop for all of your needs regarding customer service, marketing, and sales. Plus, at its core, it is free to use, although there are some add-on expenses and different packages should you wish to upgrade, which a lot of businesses do decide to do. With HubSpot, you will be able to track and organise leads in an efficient and effective manner so that better relationships can be built.
Section 4:
Social Media management
Next, we are going to take a look at some of the best social media management tools for B2B marketing teams…
Social Media Martech: Buffer
There are lots of great social media management tools out there for B2B marketing teams to make the most of today. However, there is little denying that Buffer is one of the most popular and most successful. All marketing teams need a tool like this so that they can ensure their social media campaigns are consistent and that they post on a regular basis. With Buffer, you will not only be able to schedule messages via social media platforms, but you can ensure that your social media campaign is as effective as possible. This is because you will gain valuable insights and you will be able to tweak your campaign and strategy accordingly.
Social Media Martech: Hootsuite
Hootsuite is another great social media management tool. Over 15 million people around the world use this social media tracker. You have the ability to manage a number of different streams in one place with Hootsuite. There are also different plans to select from, so you don't have to overspend on features that are not needed. It is also completely cross platform, so you will have no problem using Hootsuite on any of the devices that are in use at your business.
Social Media Martech: Sprout Social
Another social media management platform that is definitely worth a mention is Sprout Social. This is a platform that gives you the ability to easily manage your social media marketing efforts. Aside from scheduling and publishing posts, you also have the ability to see how your content is performing. Brand mentions can be tracked and you can easily join conversations when there are any mentions about your brand. This is important because it is a great way to build your online presence, to increase engagement with potential B2B clients, and to ensure that you build up a positive brand image across social media platforms.
Next, we are going to take a look at some of the best search engine optimisation tools for B2B marketing teams…
SEO Martech: Ahrefs
We cannot talk about marketing and search engine optimisation without mentioning Ahrefs. This can help you with the SEO element of your B2B marketing initiatives. In fact, this is the first tool that should be on everyone's list when it comes to SEO. Not only does it enable you to study your competition, but you can find amazing backlink opportunities, track rankings, and you can conduct keyword research. With this tool, your marketing team will have the actionable insights they need so that you can beat the competition and outrank them in searches.
SEO Martech: Moz
Moz is a leading provider of SEO tools. This includes both basic and advanced research tools that will power your search engine optimisation campaign. Their SEO keyword generator is highly popular. You can also use their link analysis tool so that you can get detailed information regarding all of your inbound links and the quality of them. Some of the key benefits associated with Moz include access to instant metrics, ability to measure site rankings, enhance your link building research, site audits, and you can explore relevant keywords.
SEO Martech: Google Search Console
https://search.google.com/search-console/
Google Search Console enables you to measure the traffic and performance of your website. You can fix any issues, ensuring your site shines in the Google Search result pages.
SEO Martech: SEMRush
Another SEO tool that you should consider is SEMRush. This will power your B2B search engine optimisation efforts. SEMRush comes with a number of different useful features. It gives you the ability to track all of the different keywords that you are currently ranking for. It will also display the rankings of your competitors, as well as suggesting your related keywords. You can use it to look for opportunities to backlink, as well as running an SEO audit of your website or blog, track the keyword strategy your competitors are using, and do all of your keyword research.
Section 6:
Email marketing
Next, we are going to take a look at some of the best email marketing tools for B2B marketing teams…
Email Martech: Mailchimp
It is also important to make sure that your marketing team has access to a powerful tool for email marketing. There are many benefits associated with email marketing when it comes to your B2B advertising strategy. It is still very much relevant in 2019. After all, it can assist with generating leads, learning more about your customers, and building your brand. However, this is only going to happen if you have a good tool, and Mailchimp certainly falls into this category. It is a customisable email automation service, offering collaborative working capabilities and strong analytics.
Email Martech: Xink
Another great tool when it comes to email marketing is Xink. The humble email signature is one part of the marketing mix that is underused yet can be very effective, especially when it comes to B2B businesses. An email signature gives all members of your workforce the opportunity to boost engagement and push key messages. If you are sending millions of emails every year, this touch enables you to add a bit of personalisation as well as making the most of a branding opportunity that would have otherwise been a very dry ending to an email. Xink is a good choice because it has a number of useful features. Firstly, all employees have the option of adding a photo to their email, which is pretty cool, as it creates a friendly face and it helps to build loyal relationships with prospective candidates. Aside from this, you have the ability to create different groups so that signature banners can be segmented based on the group in question. This can be beneficial as different groups may promote different products or services.
Email Martech: Litmus
Litmus is another useful email marketing tool for your team to consider. It comes with a number of useful website tools that will enable you to streamline the email development process. You can use a web-based editor to create emails, as well as fix problems that could result in marketing emails not being opened, or you can dig into email analytics so that you can boost your strategy. The checklist feature is very popular with users. It enables your marketing team to carry out QA emails so that performance problems are found and resolved. This could be anything from slow-loading images to missing text and broken links. This platform also integrates with other popular marketing automation tools and email service providers.
Next, we are going to take a look at some of the best live chat tools for B2B marketing teams…
Live Chat Martech: SnapEngage
SnapEngage is a live chat software, which is designed to give your marketing team the power to boost their sales and your customer service teams the power to enhance their efforts. From priority tiers and transfers to user roles, monitoring, reporting, and team chats, there are many great features that are associated with this tool. Plus, it is HIPAA compliant!
Live Chat Martech: Intercom
Intercom is a business that makes customer messaging apps for support, marketing, and sales. Their mission is to make business personal again. One of the great things about their solutions is that you are only going to pay for what you need.
Live Chat Martech: Drift
The final tool in the live chat section to consider is Drift. Drift is one of the leading chat software and conversational marketing platforms out there today. Drift uses the power of Artificial Intelligence so that you can understand the conversations customers are having with your business, ensuring they receive the right message at the right time. Plus, Drift can be integrated with a lot of the tools that you already have in place, including tools mentioned in this guide like WordPress and MailChimp.
Next, we are going to take a look at some of the best website CMS tools for B2B marketing teams…
Website CMS Martech: WordPress
We are sure that you have already heard about WordPress. After all, it is one of the most popular content management systems available today. Not only is it really easy to use, with no FTP software or HTML editing needed, but it is fully customisable and you can extend the functionality of your website with a huge number of different plug-ins.
Website CMS Martech: Hubspot
The HubSpot content management system (CMS) consists of a number of tools that all work together to give you control of all your web assets. Over the past 3 years Hubspot COS has taken great strides to compete with the more dominant WordPress.
Finally, we are going to take a look at some of the best blogging CMS tools for B2B marketing teams…
Blogging Martech: Hubspot
Not only is Hubspot ideal for your website CMS but also your blogging CMS as well. Of course, we have already discussed all of the amazing benefits that are associated with this platform when using it as a website CMS and the same benefits apply if you are looking for a blogging CMS. In terms of SEO for creating blog posts, you will struggle to find better. You can create blog content around your core topics with ease using the integrated content tools that are available.
Blogging Martech: Medium
Medium may not be as popular as the likes of WordPress. However, it is great for bloggers. This is because it is a place for people to share their ideas and written thoughts. The only thing you can control here is what you write. The environment is controlled, so you cannot alter anything else. It is all about discoverability. You can discover other writers, which is important for any blogging team.
Blogging Martech: WordPress
WordPress is another CMS that was also mentioned in the website section. When it comes to blogging, though, WordPress already comes with a blog built-in and ready to go. There are lots of great plug-ins, like Yoast, that enable you to enhance the readability and search engine optimisation of your posts. This is a great way to enhance the effectiveness of your blogging campaign.
Section 10:
Making the right choice when selecting tools for your marketing team
As a B2B business, there is no denying the importance of choosing the right marketing tools. Today, competition is fierce, and the way you market your company plays a huge role in your success. You need to make sure that you are visible online and you need to make sure your presence is one that builds trust. This is where having the right tools comes in. Hopefully, you now feel more prepared when it comes to choosing the right tools for your marketing team. If you go for the suggestions that have been mentioned above, you can give yourself a great chance of success.