A massive 85% of business use video as a marketing tool, which is no surprise considering every year, mobile video consumption rises by 100%, according to HubSpot.
While writing blogs and long-form content is essential in your marketing strategy, it's not enough if you want to stand out from the crowd and grab the attention of your target market. But how do you use B2B video marketing effectively?
Well, you came to the right place. In this article, we'll help you start your video marketing strategy and provide some top tips to get ahead of the competition — which will no doubt solidify yourself as an industry leader. Let's go!
1. Define your strategy
With B2B video marketing, the old adage "failing to plan is planning to fail" couldn't be truer… your strategy is the most crucial part of your success with it. And in that regard, the key to a successful B2B video marketing strategy is ensuring that it integrates seamlessly into all of your other marketing channels (blogs, social media, etc.).
Simply put, video is not a standalone marketing tactic — it has to complement everything else you're doing.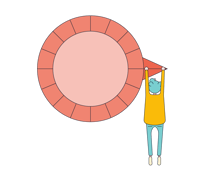 Start with your funnel
The best place to start with video is looking for ways to augment your existing marketing funnel with it. And since video is great at creating a more personal connection than other forms of content, it will be more effective to create videos for customers in the earlier part of the customer journey first (especially if you're just getting started). This is a great opportunity to help/educate your customers on important issues related to your industry and business, as well as establish your company as thought leaders at the same time (brand equity).
However, no matter where you are with video marketing, the key to any successful video strategy is to make sure that the video content you create maps back to specific points within the customer journey. Your content needs to meet their needs and provide a call-to-action that moves them forward.
For example, this could be explaining the solution to a common industry-wide business problem in an awareness stage video (the one your product solves). Or, it could be a consideration-stage video that helps your customers decide what the best solution to their business problems would be for them (ideally, subtly positioning your product as that best option).
Each of these serves a specific purpose in your funnel that moves your customers through to the next stage.
2. Create audience personas
Every successful marketing strategy starts with understanding who you're talking to. And video is no different — you need a clear picture of your target customers and their situation before you can create video content that they'll connect with.
Start any video marketing strategy by creating customer personas — an avatar that represents the beliefs, needs, and pain points of each type of ideal customer for your business. This will help you focus the content you create for specific segments of your target audience (which increases its effectiveness) and also helps confirm what type of content you'll need to create in the first place (more on that in a second).
---
Need help defining your personas? 🕵️
Book in your FREE one-to-one session with one of our Growth Experts. We'll assess your sales and marketing strategy and lay out actionable steps for you to build laser-focused personas.
---
How to create a persona for video
Each customer has their own sales journey and will have different needs at each stage of the funnel. They'll also start in different places. That said, it's not worth trying to build a persona for every potential customer — instead, you have to make some generalisations.
We've written an entire article on how to do this for any marketing strategy here. But here's a quick summary of the process as it relates to video below: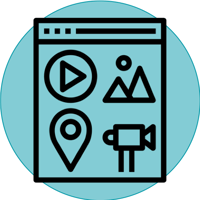 Research your target audience. What specific needs do they have that video could address? Keep this part broad — you're trying to collect as much information as you can here.
Narrow down similarities. What kind of patterns do you see across your market/audience? This could be their job role, their physical location, their age, and more.
Segment your audience. Unless you're selling a niche product, you'll probably find several patterns in your research. Segment your audience into different groups according to these similarities.
Build your persona templates. The goal here is to create a fictitious person that represents a particular segment of your audience. Think of it like building a Facebook profile for a person that would be a good representation for each person in that group.
Keep in mind, these personas may change over time. So you'll want to reassess and iterate on them as you grow.
3. Consider the types of videos to produce
Just like there's more than one customer you'll need to consider creating video content for, there's also several kinds of video content you could create to meet their needs at each stage of your funnel. It's worth noting that the more varied your content is, the more your market will view you as an industry leader. So mix it up. Just make sure it still aligns with your overall strategy.
Here are a few of the most useful types of video content for most B2B buyers. It is by no means an exhaustive list of video types, but it's probably the best place to start.
Product explainer video
A product explainer video is a great place to start for your first video. It's basically your entire funnel in a single piece of content — from the business problems your customers face all the way to how your product or service solves those problems.
Phyron Product explainer video
Product tutorial video
A tutorial (or demo) video is great for explaining how to use your product. It's particularly useful for the consideration stage of your customer journey (when they're deciding whether your product is a good solution to their problems) as it helps them see its value in a non-salesy way.
That, and it can also encourage retention among existing customers, since it helps them realise that value in real life.
Passbase Product tutorial video
Case study video
There is no better proof of your business' value than a happy client. And case studies videos give you an amazing way for prospective customers to see that value in a way that a written case study does not, since they can actually see and hear them talk about it.
The key to doing this well is making sure that the video focuses on a specific problem your product or service solved (ideally mapping back to one that fits a particular persona).
Salesforce Case study video
Webinars
Webinars are a great option for driving brand awareness in the earlier stages of your funnel, where your customers are probably aware that they have a problem and are looking to solve it, but may not know about your product yet. They are great for showcasing industry knowledge and positioning your product as a solution. And since you can record webinars, you can repurpose them for later as well.
Up until this point, we've been living the strategy world of video. Let's switch gears and get into the specifics of creating them.
Hubspot Webinars
4. Storyboard your video
Similarly to how a good strategy is the key to success with video marketing, it's important to plan out your video content ahead of time if you want the finished product to hit home.
The key to doing this well is a good script and a storyboard. Your storyboard is a visual outline of your video from beginning to end and the script is what the narrator (or person in the video) will actually say. Your script and storyboard should inform what you need to film.
It's worth noting that this is a difficult thing to do well. So here's a way to simplify this process if you're just getting started.
Use video to amplify your written content
We always recommend starting with the script when you're creating a video — after all, it's the basis for everything that will happen within it.


The good news is, if you've already established a written content marketing strategy (more tips on how to improve your strategy here!), you've done most of the work needed to create a script that will drive real results. According to HighQ, 59% of executives say they would rather watch a video than read text, so creating videos to compliment the content you've already written will allow prospective customers to consume it in their preferred format.
This approach also drastically simplifies the work required to create a video too. For example, you can use the written content from a high-performing blog post (which should already be in a conversational tone) as the basis for the script, and use visuals from the post to inform the storyboard (that is, what you need to film).
Win, win.
5. Edit with free or paid editing software
Once you've filmed the pieces of your video you laid out in your storyboard, the next step is editing it. This part should be straightforward if you've followed everything above. There are plenty of free tools available that anyone can use to cut professional-looking videos: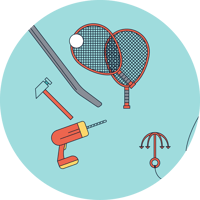 Once you've picked your editor, all you have to do is lay your clips out according to your storyboard. Voila! A video!
One last thing to note when editing your video: you'll want to make sure that the finished product is subtitled so it's easy to consume when you promote it. Which brings us to our final point…
6. Publish your content on the right platforms
Like any other form of B2B marketing content, promotion is 80% of the work. So once you've created your video, the next step is putting it in front of your audience.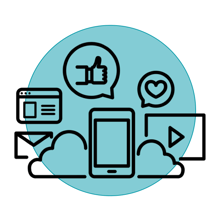 Social media is always a great place to start for B2B — especially LinkedIn. 54% of executives on LinkedIn say they share videos with colleagues weekly. So posting it there dramatically increases your chances that your target market (and the true decision-makers within) will see it.
This is also where subtitles are critical… since most people scroll through their social feeds with their sound off, adding subtitles increases the chances that they'll stop and watch it (they don't have to turn sound on to understand what you're saying).
Additionally, adding your videos to your YouTube channel (or another hosting platform like Wistia) makes it easy to embed them into other places like your website and blog. This simplifies the process of integrating their distribution into your overall content strategy.
Weave video into your overarching strategy
If there's anything that's most important to take away from this article, it's ensuring that each video you create serves a specific purpose within your funnel.
It's not enough to create marketing videos just to "do video" — it has to help your customer and it has to complement what you're doing on other marketing channels for it to enhance your lead generation efforts.
If you want more help with perfecting your overarching marketing strategy, book a free growth assessment with us today, and start your journey to gaining those crucial leads!