Have you noticed the outbound is becoming more expensive and fewer people are responding? According to data from HubSpot's State of Inbound Marketing report, "inbound marketing had a 76 percent likelihood of being the marketing marketing strategy of choice for B2B companies." Thats great, but what are the best routes to delivering inbound marketing. In this article, we'll break down the inbound marketing tactics that as marketers will make your B2B marketing strategy successful.
Whether you're a managed services business, software as a service or tech inbound could be the difference between marketing success and failure.But let's start with the basics, before breaking down the 10 most effective tactics you could deploy to deliver leads.
Section 1:
What is B2B inbound marketing?
Inbound marketing is an approach to marketing that encourages customers to come to you. Inbound marketing puts the customers in control, leaving them to search for what they want. It can be contrasted with outbound marketing, which is seen as less subtle and more "intrusive". Inbound marketing includes techniques such as content marketing, search engine optimisation and social media marketing. Outbound marketing focused on traditional media and techniques such as PPC advertising, TV and radio ads, and print advertising.
Inbound marketing draws people in so that they don't feel like a brand is being pushed on them. The customer is in control and can find the products and services that they want through useful content. Inbound marketing uses content marketing that's relevant to your audience and combines it with targeted CTAs (calls to action) to encourage them to take the next step in the sales process.
Long form content wins the race
Content marketing is at the core of inbound marketing, and long-form content is a must for a strong content marketing strategy. Long-form content is any content with a higher word count and, although there is no official definition of just how many words it should have, most people would agree it's definitely no fewer than 1,000 words. The longer the content is, the more people will engage with it online. This will include more clicks, reads, shares and other ways to engage with content. Good content is used for a variety of purposes. It helps your SEO performance, it can position your business as a voice of authority, and it can provide useful information for your customers.
When you're creating a content strategy, you need to consider the things that you want your brand to be known for. How do you want businesses to view you and what do you want to show your expert areas to be? Obviously, you want to provide content that is relevant to both your audience and your brand. You also need to help people to find your content by thinking about SEO. Long-form content is already good for boosting your SEO, as longer content tends to perform better. But you also need to consider factors such as keywords, page speed, metadata and various others.
Repurpose content into multiple formats
When you have spent all of that time working on long-form content, publishing it just once might seem like a waste. However, if you have content already prepared, it can serve a further purpose. Repurposing your content involves taking existing content and using it to create more content in different formats. You can take content of any type and turn it into different content, but some formats will be easier to translate into other formats. Longer pieces of content can easily be turned into several shorter or smaller pieces of content. You might turn statistics from a blog post or case study, for example, into an infographic that you can share.
If you want to repurpose more of your content, consider taking a video you have made and creating blog articles from it. An instructional video could provide you with inspiration for a blog article or even a series of articles, or you could simply type out a transcript of the video. You can also consider taking an ebook and using it to create pillar pages, which serve as key content for your website. It's worth brainstorm blog topics that can translate into various different formats to maximise your inbound marketing value.
Article continues below.
B2B inbound marketing tactic #3:
Use social media and share other relevant content
Social media is a must if you want to improve inbound marketing for your B2B company. Social media might seem easy at first, but there's a lot more to it than you might think. It starts with choosing the correct platforms and knowing which ones are relevant to your audience. The good news is that other businesses are using social media for their own marketing, so don't assume that only LinkedIn or Twitter are useful platforms to use. Whichever platform that you decide to use for your brand, you need to position yourself as a relevant player for your audience.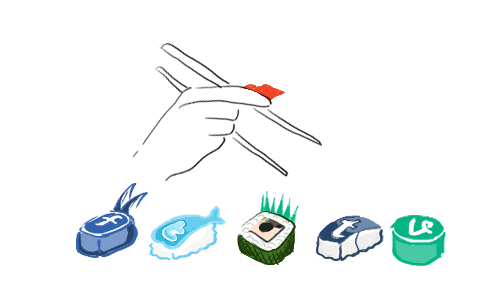 The most important thing is to share content that your audience finds interesting, and to do it regularly. This involves keeping an eye on what your audience is talking about and what they're searching for. Creating a stream of social media content that's relevant to your audience will help you to ensure you put out regular content. You can use tools like Hubspot, Buffer or Hootsuite to schedule daily content that will publish when you want .
Create clear and relevant CTAs in your blog articles
Content is used to draw your audience in when they're looking for information that's relevant to them and to your products or services. Running a business blog is one of the key ways to improve your SEO and create content to share on social media. However, publishing and sharing your blog posts is only the first step. Once someone has read one of your articles, what do they do next? Do they know what step they should take next or will they simply exit from your website and go and do something else?
If you want to ensure they keep paying attention, you need clear and relevant CTAs in your articles. This might mean directing your readers to further reading, asking them to sign up to your newsletter or suggesting that they contact you if they want to know more. Putting a CTA at the end of a blog post will mean that your readers take in your content, and then have something actionable to do once they have finished.
Article continues below.
Use support and FAQ content to drive traffic
One of the important things to remember about inbound marketing is that people are looking for help and information. They're researching the products and services that they need for their business, and could be at several different stages of the buying process. They might be in the initial research stage, trying to find a solution to a problem that they have. They could be comparing possible solutions, or they could be researching a specific product or service to decide if it's right for their company. If you want to capture this type of traffic, one way to do it is through the use of support and FAQ content.
When you use content that is designed to answer questions and provide support, you can help people when they need it most. You can find out what questions they're asking and what they want to know, and provide clear answers. It's also a good way to get prominent positions in search engine results, where your page might show up in featured snippets at the top of the page. A good way to do this is to answer questions and to create lists.
B2B inbound marketing tactic #6:
Double down on high performing content
Monitoring your content to see how it's performing is vital. It helps you to identify what does well and what isn't so interesting for your audience. When you use analytics tools to check the engagement on your content, you can keep an eye on which are your high-performing pieces of content. Once you know works well, you can create similar content, but you can also make the most of your existing content. By optimising it and continuing to improve it, you can ensure it does even better than its current performance.
Keeping your content updated is also a good idea. What might once have been high-performing could drop off if it starts to become less relevant. You can check it over regularly to ensure the information is still up to date. You can also update content each year or even for different seasons. If you write an article about the latest trends in your industry for 2019, you can update it for 2020. Even just changing the date while keeping the content the same can work for some things.
B2B inbound marketing tactic #7:
Use thank you pages to promote more content
A "thank you" page can be useful in a couple of different situations. You might use one when someone signs up to your newsletter or fills out your contact form. You can also use them if you sell products directly on your website. After someone completes a sale, a page to say thank you might also provide them with an order number and other relevant information. As well as being polite and sometimes a good way to track conversions, a "thank you" page can also be a great promotional tool for your content.
When you create these pages, you can include links to content that relates to them. For example, perhaps you have a "thank you" page after someone has sent you their contact details and downloaded an ebook from your site. You can then direct them towards content that links to the ebook, whether it's blog articles or further downloads for them to benefit from. These pages don't need to be almost blank when they could be even more useful.
B2B inbound marketing tactic #8:
Find influencers in your space
The connections that you have are also important if you want to improve your inbound marketing. Finding influencers in your space helps you to get your message out about your brand. Influencers can help to promote your content on social media and through other methods too. Firstly, you need to find the right people in your space, who have influence with your customers. You might find these people through networking both online and offline. They could be people with popular blogs or social media accounts with an audience similar to yours.
Article continues below.

When you have found influencers who can help you, you can encourage them to share your content. They can also contribute their own content for your blog or other channels, and you can write articles that they can put their name too. Influencer relationships can often mean paying for the help that you receive. However, it doesn't always have to be a monetary deal. You might also create a mutual agreement that helps your influencers as much as it helps you.
B2B inbound marketing tactic #9:
Use analytics to drive your actions
Using analytics tools is vital if you want to be able to understand your inbound marketing and content performance. Analytics give you the data you need about important factors, such as your website traffic, user behaviour on your website, and social media engagement. You can use a variety of tools to gain analytical insight, from Google Analytics to Facebook's analytics tools. The most important thing is that you know how to interpret the data you receive and how to make decisions based on what the data shows.
For example, you might look at how a certain piece of content performs. Analytics can allow you to see how many people look at a blog post and how long they spend on the page. You can see how people arrive on the page, such as whether they come from social media, search engines or other pages on your website. You can also see how people engage with a link to the post on social media, including shares, likes and comments. When you see that a piece of content is performing well, you can use that to make future decisions about the content you create and share.
B2B inbound marketing tactic #10:
Automate follow-up to keep moving leads through the funnel
When your audience comes to you, you have to be ready to respond to them when they get in touch. Your CTAs will encourage them to contact you or send an enquiry to start moving them through the sales funnel. Responding to leads is easy when you only have a few, but becomes more difficult when there are many to deal with. Automation is a great way to ensure you follow up on leads and keep the ball rolling.
You can automate various processes, including email follow-up. When someone emails you or fills out your contact form, you can automatically send a follow-up email. It might confirm a booking, let the person know you will be in touch or perhaps contain further contact details. You can also automate lead assignment to your salespeople so that they can immediately start following up on leads and everyone has a constant stream of work shared between them.
Your B2B business should have a strong inbound marketing strategy so that you can continue to bring in new customers and grow your business.